Welcome to our blog- with a bit more info about what we've been up to!
April 2022
Hi followers! You might notice it's been a little quiet in here- between covid and dwindling membership, we are struggling to stay afloat.
We have a few activities going on in the background, but our key thing right now is focussed on MEMBERSHIP- visit our special new page to see more!
I also took a look back over 2021-22 and was amazing at how much we did do! Go and check it all out here, and below is a breakdown of the highlights.
In 2021 we donated to The Ark Trust for Project 73 and St Paul's Child Contact Centre as well as CF Dream Holidays, Brain Tumour Research, Cowshed, SightSavers and the Alexander Devine Trust. In addition we supported families in need via Social Services and the Rough Sleeper team. We helped the Gambia project buy a new water pump, collected over 50 bags of litter and collected over 400 pairs of spectacles to be donated to Sight Camps through Spek Trek. We also donated numerous Message In A Bottle packs to local surgeries.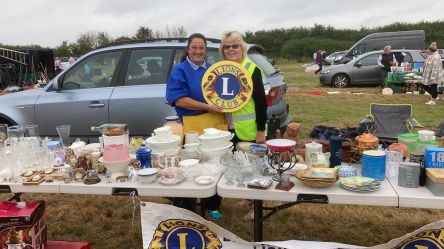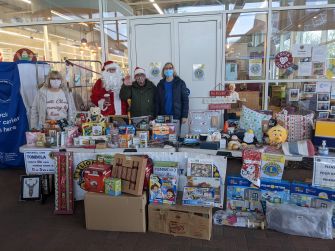 Already in 2022 we have donated over £1,700 to a variety of causes including the Lions Ukraine Appeal, Spotlight UK and The Cowshed as well as distributing free Message In A Bottle packs to local residents, raising £238,53 for Marie Curie UK and sending off a further 200 pairs of spectacles for Spek Trek .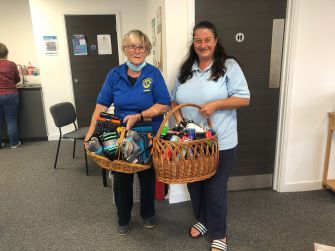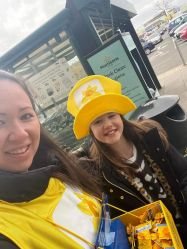 Not. Bad.
Especially when you bear in mind the covid situation as well as our own dwindling membership numbers. Well done to our incredible small team!
--------------------------------
November 2020
This month we arranged a collection for the foodbank with Wildridings Primary School, laid wreaths for remembrance day in town and at St Michaels Church and have undertaken a number of socially distanced litterpicking activities. As we enter a second C19 lockdown, we are focussing on what we CAN do, rather than what we can't! I look forwards to doing a recap in December of all the things we've managed to do this year.
Foodbank collection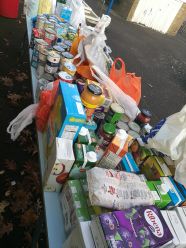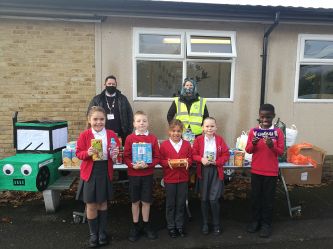 Remembrance wreath laying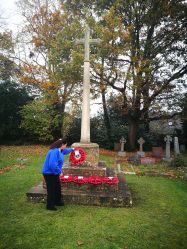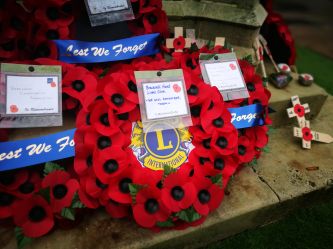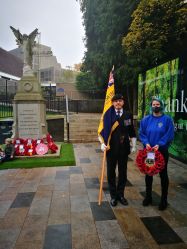 Litter picking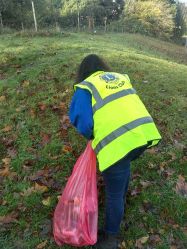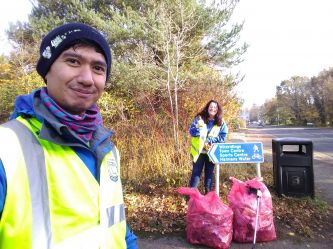 --------------------------------
October 2020
Last month saw our epic sponsored walk! As a team we walked (and ran!) over 166 miles (with a target of 100). Special mention to club member homer who RAN 50 miles! The donations and sponsorship poured in and I'm so pleased to announce that we raised.......
.......£1,000!
Thank you everyone who helped out, walked, sponsored or cheered us on!

In addition, club member Marcia has knitted and donated 18 "Trauma Teddies" to Thames Valley Police. These are given to any children they come into contact with during distressing incidents, to give them a little comfort.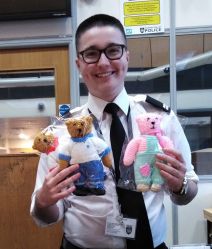 --------------------------------
September 2020
Hello!
This month we are hoping to top up the charity account with a 100 mile sponsored walk! With a range of ages and ability, our club members will be walking (or running!) as far as they can on the weekend of the 26th and 27th September. If you'd like to sponsor us or donate, please visit
https://www.gofundme.com/f/supporting-community-needs
COVID-19 has been tough on many people.

At Bracknell Forest Lions, we run fundraising activities throughout the year, including our huge event in July- The Bracknell Show. We raise money to donate to local charities and causes, plus supporting a few larger national and international causes. However, our fundraising efforts have stalled and we expect to be around £5000 down on previous years due to not being able to run out usual events and activities.

If you have a few spare pounds, that you might have spent at a fete or festival, that you might have previously popped in a charity bucket in town or bought a raffle ticket with, please consider donating so that we can support local people in crisis through some of the wonderful Bracknell and Berkshire based charities.
Thank you
Recent donations from the Bracknell Forest Lions include:
- Berkshire Womens's Aid & Cowshed
-South Hill Park
-Bracknell Food Bank
-Dream Holidays
-Pilgrim Hearts Winter Homeless Shelter
-Brain Tumour Research
-Sightsavers
-BADGOHS
-Cruse Bereavement Care Thames Valley
-The Ark Trust (Project 73 & Festival Green Machine)
-The Red Box Project Bracknell
-Marie Curie
--------------------------------
April 2020
Hi all
No surprises- Bracknell Lions are affected the same way that everyone is during the Covid-19 pandemic and resulting lockdown/ social distancing. As a result we've sadly had to cancel our plans for summer events, which includes the Bracknell Show 2020. At a time when charities need more support than ever, this is a huge blow to us and to them- but we continue to hold our monthly meetings online and think about how we can support our community.
--------------------------------
February 2020
Plans are afoot! See you in July everyone!


--------------------------------
January 2020
Happy New Year!
After a busy Christmas period with carol singing and our usual Christmas tombola, raising over £490 between the two events plus collections over over 200 high quality items for Berkshire Womens' Aid Shelters and Cowshed. In addition a number of items went to Pilgrim Hearts for their winter night shelter for the homeless.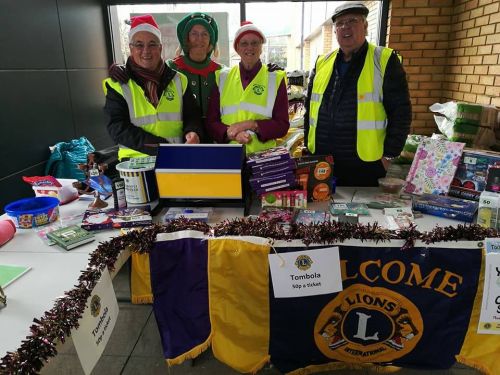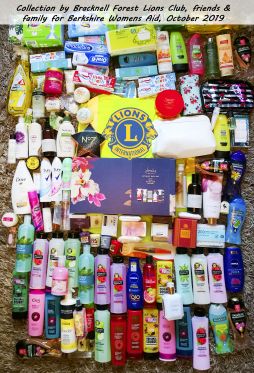 Over the past few months, £150 has been pledged to Pilgrim Hearts, £200 to the Australian Bush fire Appeal, £200 to Brain Tumour Research, £150 to Sightsavers (matched by the UK government) £500 to The Gambia Project, £250 to Dream holidays to support families of children with Cystic Fibrosis and £100 moved to our Message In A Bottle account to buy more packs.
In January we've also collected over 300 items for Bracknell Foodbank at a typically quiet time via the wonderful staff, students and their families at Wildridings School.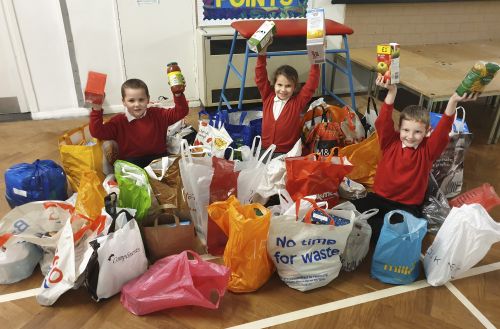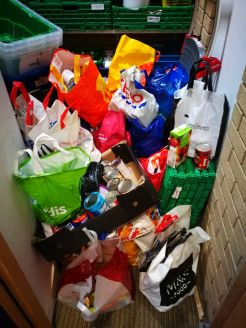 https://www.bracknellnews.co.uk/news/18219251.wildridings-primary-school-bracknell-lions-club-collect-350-items-food/

--------------------------------
July 2019
Another show over with, a team of exhausted & happy Lions!
Thank you EVERYONE- over £5,500 raised for charities & good causes!
--------------------------------
June 2019
It has been a rather brilliant month here!
After raising over £1,000 between our Easter Egg Tombola, Easter Egg Raffles and the bag packing at Morrisons, we decided to check out some local charities and organise some donations.
Here are two of our Easter Egg Raffle winners and our antics at Morrisons and Tescos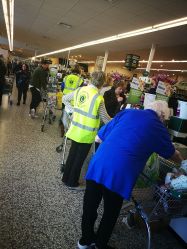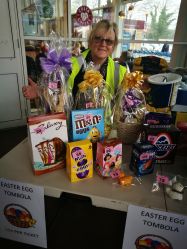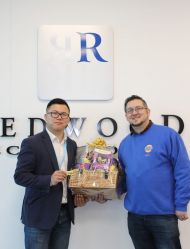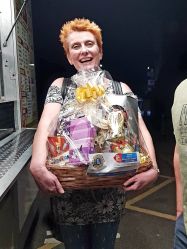 We donated £1,100 across 5 charities- Red Box Bracknell, Festival Green Machine & Project 73( via The Ark Bracknell), BADHOGS, Cruse Bereavement Care TVB and Berkshire Give A Child A Chance (thought Berkshire Community Foundation)
We were pleased that a number of the charities were able to come along to our meeting in June to collect their cheques- and we even had a short presentation from Leo at Project 73 and Mark from The Ark about Festival Green Machine- which was really interesting so thank you both!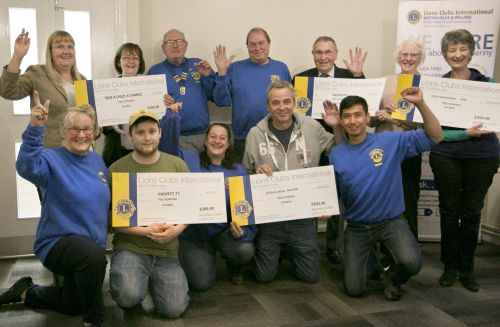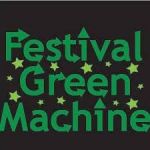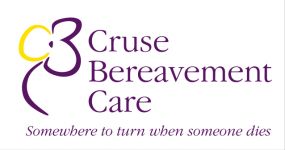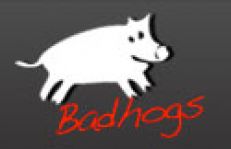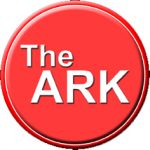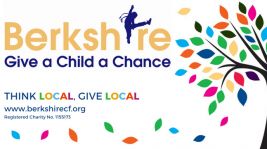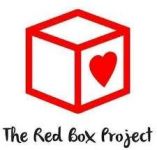 We are also well into our plans for the Bracknell Show 2019- with just 5 weeks to go our evening music line up is sorted!
| | |
| --- | --- |
| 17:45 | Abi Powell |
| 18:05 | Dave Bedford |
| 18:25 | Tony Bennett |
| 18:55 | Kris King |
| 19:15 | Keanne Le Moual |
| 19:35 | Toxic Sofa |
--------------------------------
18th March 2019
Stall bookings are coming in thick and fast for the 5th annual Bracknell Show in July! Prices start from just £15 for an information only stall and all profits go to charities and local causes!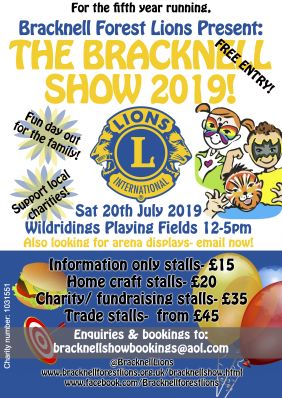 --------------------------------
6th March 2019
Just a little update from us about our plans so far for the year and what we've done so far.
Last week we were collecting for Marie Curie- and raised just under £600 (so we've topped it up to £600) as we know this can provide 30 hours of care to those struggling with terminal illness.
Upcoming we have Easter Egg raffles going into a number of locations- The Birch pub in Birch Hill, Redwood Technologies, the Admiral Cunningham pub in Priestwood, Bracknell Gymnastics Club and the Brackenhale School. The baskets look amazing and are filled to the brim with chocolate goodies. Ticket are just 50p with the prize draw prior to the Easter weekend- so pop in and buy a ticket or two and you could win a beautiful basket full of Easter chocolate!
In addition we'll be holding our amazing East Egg tombola at Martins Heron Tescos on Sunday 7th April, so come along and see what you can win.
Plans are also afoot for our membership evening on the 10th April (details TBC soon!) and the Bracknell Show 2019 (Sat 20th July- pop the date in your diary!).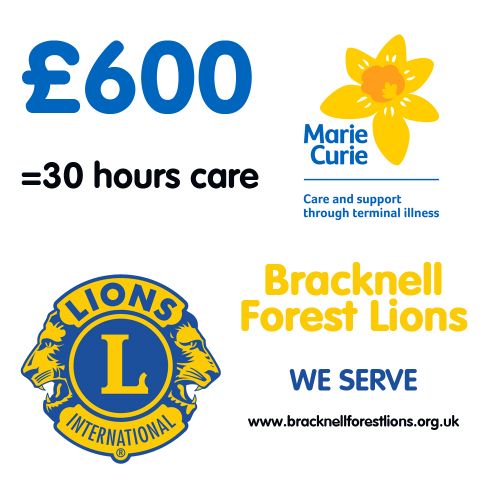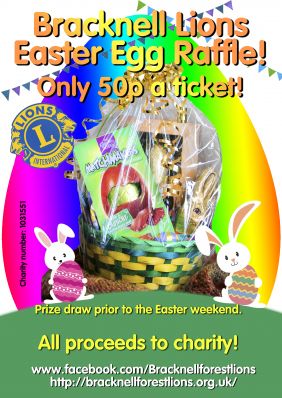 --------------------------------
December 2019
This month we've been busy spreading festive cheer! Our Christmas Tombola at Martins Heron Tescos went down brilliantly, we raised over £370 for local causes thanks to your generosity! A couple of our members have been to help out with one of our favourite events of the year- the Me2Club Christmas party for volunteers, the children and their families. It's always a wonderful event, and it's great to see the smiles on everyone's faces.
We've also made a donation of £750 to South Hill Park for their Dementia Friendly Screening which is a wonderful initiaitive to provide a service for those who often miss out on being able to watch and enjoy films with their loved ones.
Happy Christmas to you all!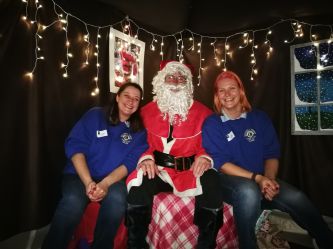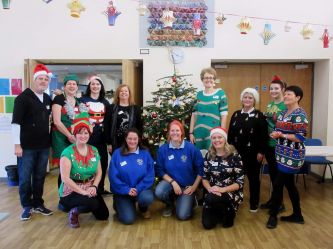 Here are two club members with Santa and with the Me2Club team
We also had some real success this year in collecting for the Pilgrim Hearts Wintern Night Shelter- run from December through to the end of March every year. We not only donate funds regularly but this year we collected and purchased required items to donate- underwear, sleeping bags, jumpers and coats and pillows.. Over 150 items have been collected and donated over the festive period.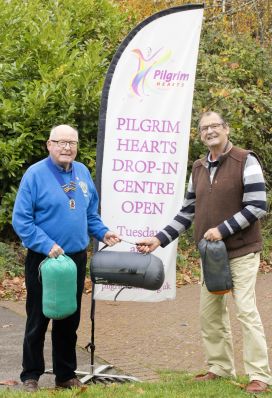 --------------------------------

July 2018
Another year, another show! The weather was kinder to us this year (thankfully) and this year we really got the most out of the evening entertainment with warm weather, a glass of wine and wonderful musicians. This year we raised even more than before and have been looking at all the different local causes to start donating to. Thank you to everyone who came along and supported the day to the wonderful arena displays, evening musicians and all our sponsors and supporters.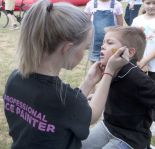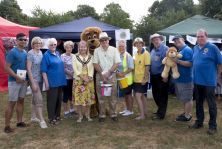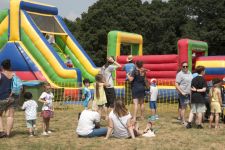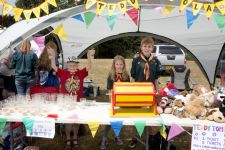 Some of the great things that happened at the show!
--------------------------------

29th May 2018
We go from one fancy evening 'do to the next!
On Saturday 26th May, Bracknell Forest Lions invited members, partners, past members, representatives from charities and other organisations and fellow Lions from other clubs along to our 50th anniversary Charter Night, held at the prestigious Grange Hotel. Charter nights signify the passing of another year of Lionism, and passing the baton to the new incoming officers whilst congratulating the current officers on their year. Thank you to Isabel for all your hard work as Club president!
The Charter was a wonderful evening with a fantastic meal, some (brief!) speeches, a raffle, a few awards and we danced into the night. It was great to have the club together to celebrate 50 years of Lions in Bracknell. As a club who were threatening to close less than ten years ago due to low membership, it really feels like a huge success to not only be up and running still, but to Pride of Bracknell award winners, and to be making a real difference in our local communities to the lives of those in need.
A special congratulations goes to incoming Club President, Lion Steve Pope who was recognised by our District President Pete Burnett by awarding him with the Melvin Jones Fellowship Award. Lions Clubs wordlwide recognise outstanding individuals by bestowing on them an award that is named for it's Founded, Melvin Jones. This award is the highest form of recognition and embodies humanitarian ideas consistent with the nature and purpose of Lionism.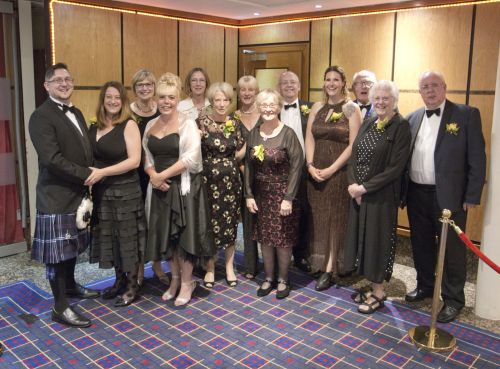 Bracknell Forest Lions Club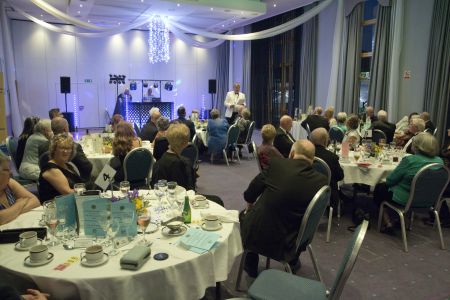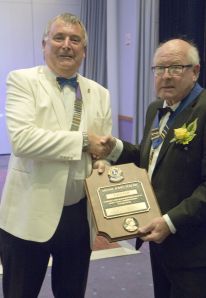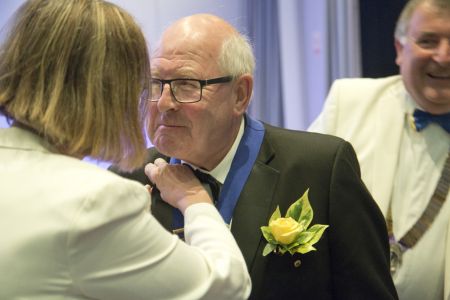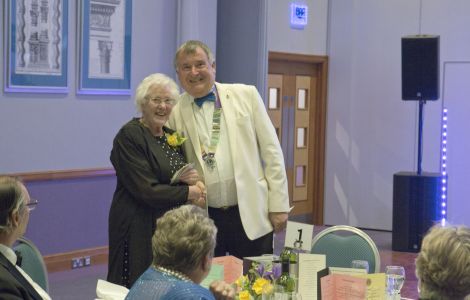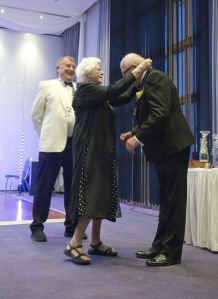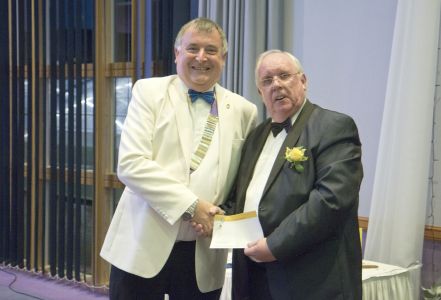 Thank you as always to everyone who has supported our club over the years, we are truely grateful.
11th May 2018
We have had some amazing news! Bracknell Forest Lions Club have just been awarded the Pride Of Bracknell Award, for Team of the Year 2018! We are over the moon with this honour and it really shows what we can achieve when we work together. A few of our members attended the ceremony in late April, and had a wonderful time, topped off by our win. Thanks to Shorts Group who sponsored the award this year.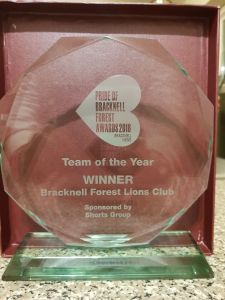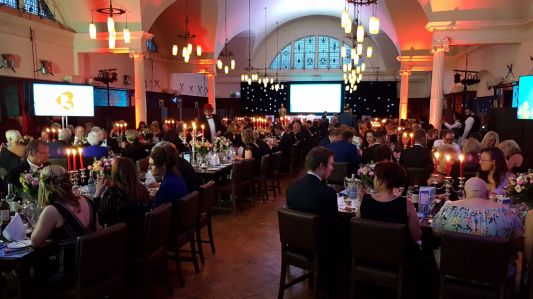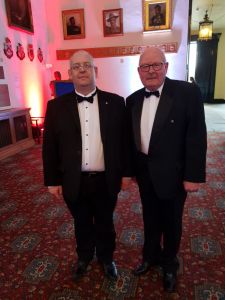 12th April 2018
It's time for us to start getting up to speed for the Bracknell Show 2018!
Email bracknellshowbookings@aol.com if you'd like to book a stall or arena display in and we'll send you out a booking form. Media enquiries through the "Contact Us" section of the website please!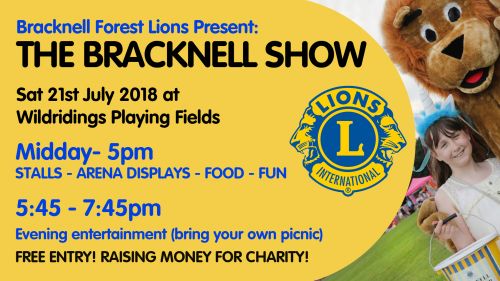 This month we've also raised over £600 with our Easter Egg Raffle and Easter Egg Tombola!
22nd March 2018
Time for an update on Gambia!
Reminder of the background:
In January 2016, members Brigid and Mike went on holiday to The Gambia and met with Kebba Cham who took them to the village of Gunjar Kunkujang where they sat with the elders and the chief and spoke about the issues there and what help they required.
In their village they have a bore hole powered by solar power which currently services just 9 taps for 2000 people (one of those taps is dedicated solely for the school which has over 800 pupils).
Their need was to get a minimum of 25 taps which potentially could provide clean water to 10,000 people. To do that meant replacing the existing solar panels, water tank and tower and provide larger ones to power the water distribution to a wider area.

TIMELINE:
January 2016 – first trip to The Gambia and Gunjar Kunkujang
August 2016 – with the approval and support of Bracknell Forest Club the project fundraising was launched nationally
November 2016 – second trip with 90kgs of school stationery (mostly donated by St Teresa's Catholic Academy, Wokingham after we addressed a school assembly)
July 2017 – have raised £8000 in 12 months from clubs in this District, other clubs in MD, schools, companies and family and friends
July 2017 - Banjul Kairo Club now established 1 year – advised to apply for LCIF International Assistance Grant
August 2017 – completed paperwork despatched to Oakbrook
25th October 2017 – matching grant of £7200 granted by LCIF
November 2017 – third trip to Gambia with another 40kgs of goods. Minor variations in project - contractor instructed to start work
End December 2017 – work starts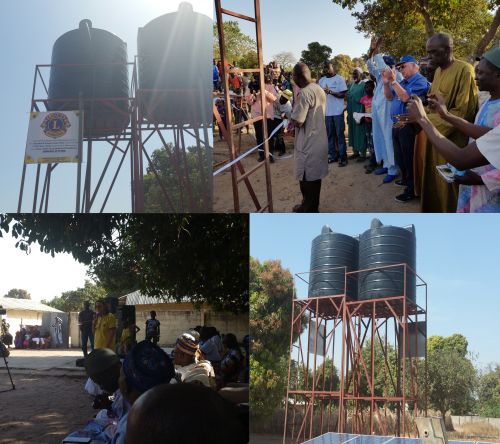 13th March 2018
This has been a great month already with much more planned too.
We collected for Marie Curie on 10th March and raised a huge £588.05 which we have rounded up to £600 to provide 30 hours of care.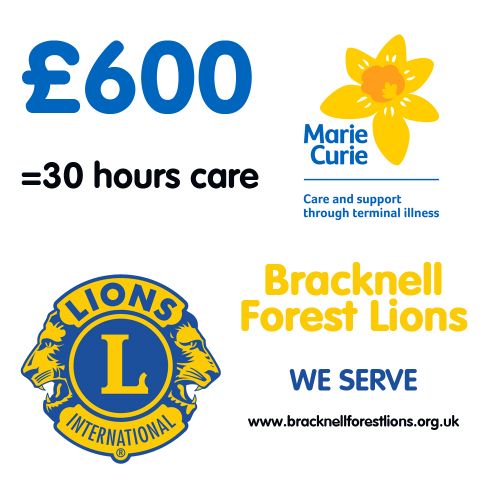 In addition we were lucky to have Elizabeth Burton-Phillips MBE, founder of DrugFam come to our meeting to talk about how and why the charity was set up and what they do. We are excited to be donating the proceeds of our Easter Egg Tombola to DrugFam later in the month. That's right, we have an Easter Egg Tombola at Tescos in Martins Heron on Sunday 25th March 2018. For 50p a ticket you can win from a huge range of easter eggs, with all proceeds going to DrugFam and the wonderful work they do with the family, friends and communities around people suffering with addiction.
In April we have Joe from Sue Ryder coming to speak to us about their hospices.
Last but not least, we had some awards to give out at our meeting in March! Both Terry and Brigid receive awards for bringing new club members in (including Scott, pictured on left below), and Brigid received a further award for membership. All are pictured below with Lion President Isabel at our meeting.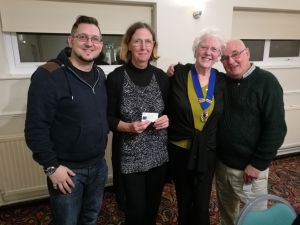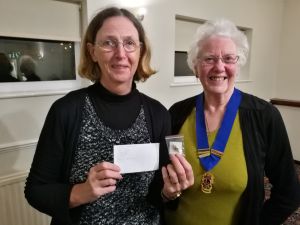 22nd February 2018
We've been awfully busy again since we last updated our blog!
In the winter months we've been planning the updates to our beautiful Centenary flower bed, have donated to Citizens Advice, distributed Message In a Bottle Packs to numerous places including 4 Square, helped Red Diamonds disability sports club find new mini bus drivers, and raised £230 with our Christmas raffle at Homebase and carol singing at Waitrose! Some of this money went to Pilgrim Hearts which is a local homeless shelter charity that operates over the winter period.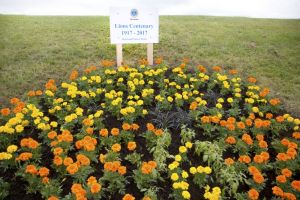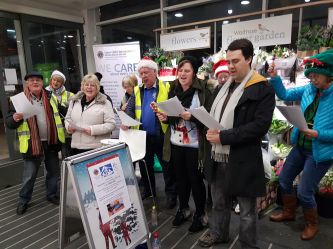 We've got lots of things planned in for 2018 already- including the Bracknell Show, Easter Egg raffle, Easter Egg tombola, Marie Curie collections..... watch this space!

We are also proud to announce that the club won the International Relations award this year for our fundraising for the Gambia project. To find out more, visit our BT Donate page here.
12th September 2017
So now we've recovered from the Bracknell Show 2017, we're back on our feet organising events and donating money!
Mike and Brigids Gambia Appeal is going really well- they recently sent £6,500 over to Gambia to get work started! If you'd like to donate, please visit our BT Donate page. We've also supported Bracknell Youthline and Citizens Advice with requests for funds and have helped a local family in need by supplying carpets for them. We were at Bracknell Homebase over the August Bank Holiday weekend, and raised over £100 for our charity accounts, which we have already committed to local causes.
Back to the BRACKNELL SHOW- what an amazing day. The team really knocked the event out of the park, despite horrible weather pretty much chasing us out of the park in the afternoon. The rain and wind came, but not before we had some great fun. The stalls were varied, the food was amazing, the displays in the arena entertained (we saw a few wet eyes at the ballet performances) and we had some great support for the day. Thank you everyone who came along! We managed to raise around £2,600, despite having to close down early due to the rain and wind. We really hope next year is a sunnier day!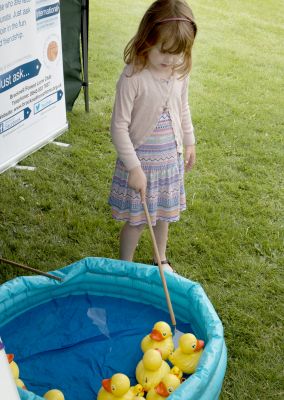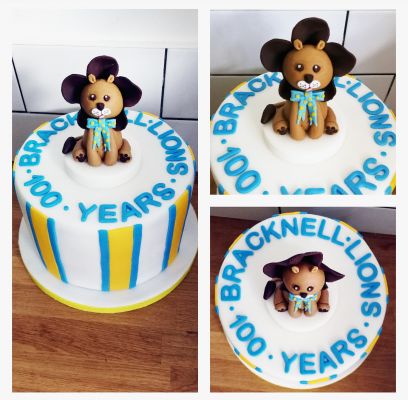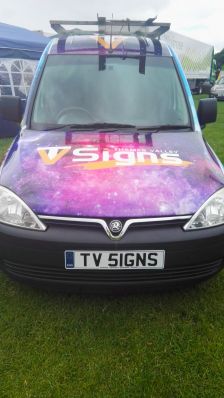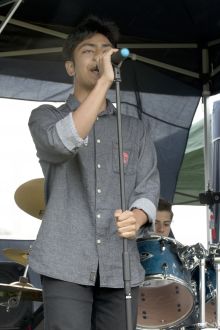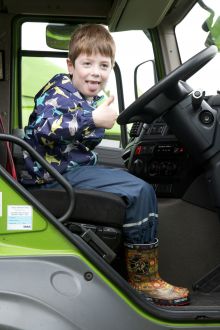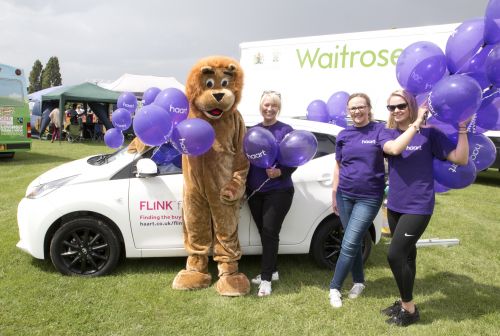 23rd June 2017
Yesterday we planted out our Lions Centenery Flower Bed at Wildridings Playing Fields. It looks brilliant- thank you for your support to the Town Council for helping us get this off the ground. You might spot it when out walking or driving past it on the A3095. Be sure to go and have a look at it if you live locally. We are so proud that it will be on the Bracknell in Bloom route for 2018!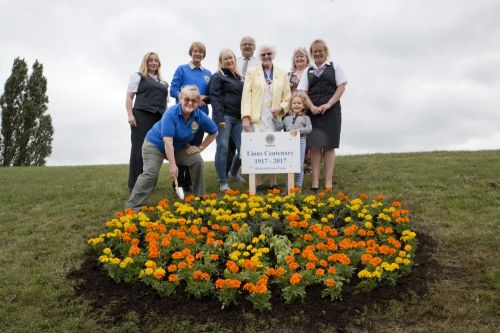 9th May 2017
We've had a busy few months, including another year of marshalling the Bracknell Half Marathon, a fun Easter Egg Raffle to raise funds for local causes and planning the Bracknell Show 2017!
If you'd like lots of exclusive info about the show, please join our Facebook Event and join in the conversation. For more info & stall bookings, contact bracknellshowbookings@aol.com, or if you'd like to offer up an arena display, please email arenashows2017@gmail.com.

One of our club members was awarded her 10 years service badge at May's meeting, a huge achievement, so CONGRATULATIONS HELEN!


2nd November 2016
We all took a bit of a breather after the Bracknell Show- what an amazing day!
We had BBC Radio Berkshire broadcasting LIVE from the event on the day, had wonderful weather and a huge turn out! There were also a huge number of people who stayed to enjoy the Elvis Tribute act in the evening and bring their own picnic. This year we really focussed on our marketing and PR which really paid off! Here's a great piece by the Get Reading Team: http://www.getreading.co.uk/whats-on/family-kids-news/bracknell-show-2016-sees-fun-11660271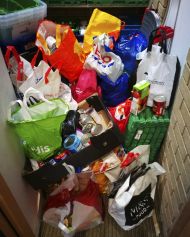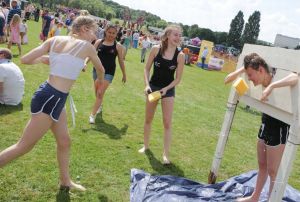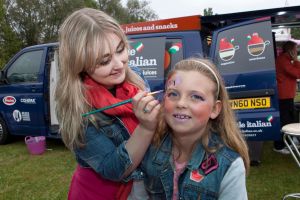 We're starting the planning for next year already so watch this space!
October update! This month we've cleared all our Message in a Bottle requests (more info here: /events/messageinabottle.html), donated £200 to the LCIF Haiti fund, badged up two new members attended Burnham Lions charity quiz night and planned two festive events: 18th Dec at Martins Heron Tescos (charity tombola) and 20th Dec at Bond Way Waitrose (carols and collection).
In other exciting news, club members Mike and Brigid have set up their Gambia Appeal here: http://www.gambia.bracknellforestlions.org.uk/index.html
"In January this year, my wife and I (both Lions) visited The Gambia with the intention primarily of having a holiday. Whilst there we renewed the acquaintance of ex-Lion Kebba Cham whose university fees whilst in the UK studying had been paid for by the Lions Club of Burnham which was my wife's club at that time.
On his return to The Gambia with his degree, he is now working for an NGO, with its HQ in Richmond, VA, USA called ChildFund International. He is a Development Officer with this organisation and has responsibility for the management of many small villages in the bush. One of these villages is Gunjar Kunkujang which is about 20km from Banjul. It has a central population in and around the village of about 2000 inhabitants and supports a school with 800 pupils.
We were taken to the village by Kebba and met the Chief and his elders and, on asking if there was any way that we could help, the village had two requests: (1) a mobile medical clinic to visit on a regular basis and (2) an upgrade of their water facilities to enable it to reach more people. Number 1 was arranged easily as we knew through personal contacts that the Order of Missionaries of Charity (Mother Theresa's order) was seeking a second village to take their mobile clinic to every two weeks. Kebba was put in touch with the Superior of the order in Banjul and the provision agreed
Currently the water well which is powered by solar energy provides 10 taps to supply 2000 people including one tap which is designated solely for the school of 800 pupils. The goal is to extend the pipes and increase the taps to about 25 – if this were done then potentially water would be available to about 10,000 people in the wider area.
To achieve this the basic infrastructure would need to be upgraded – a new water tank to hold the higher capacity, new and larger solar panels to power the water supply and probably a new tower to take the extra weight. We have received one quote for this work so far and the cost is 1,114, 657 Dalasi which equates to about £18.5k sterling. The work can be managed in three phases (1) the installation of the new tank, panels and tower, (2) the provision of the first extension and then the final extension as stage 3
My Lions Club, Bracknell in 105D, have set up a bank account which will manage the funds for the project. As a couple, we are raising funds via a mydonate page on the Internet, by personal fundraising from families and friends both as a one off gift and ongoing contributions, and also our Region Clubs who have shown interest and at least two schools here in the local area who wish to promote this as a school project. Unfortunately there are no Lions Clubs in The Gambia but ChildFund International is prepared to manage and administer the funds locally if a grant is forthcoming.
My wife and I will jointly manage the project and have already booked to go back in November 2016 at our own expense to monitor progress and will make further visits if required.
Can you help us please to help Gunjar Kunkujang have adequate access to clean water?
Mike & Brigid Hendy"
17th July 2016
We've been busy working away on the Bracknell Show (which is NEXT SATURDAY- 23rd JULY!!!), but inbetween working on all our normal service and fundraising work. A few month ago we had a vey poignant request from a local resident who needed carpets for her home. We worked with the brilliant Mick Brennan of local company Creative Carpets of Crowthorne High Street to get some new carpets into her home to help with her family life. Thanks Mick!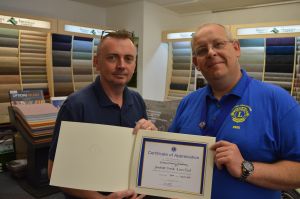 10th May 2016
On Sunday it was the Bracknell Half Marathon. This is always a tough event- as if running over 13 miles wasn't hard enough, it's also a very hilly course. So you can imagine how the runners must have felt watching the weather forecast for the weekend and watching the temperatures creep up and up. However, they were all on fantastic form- good pace and smiling faces the whole way around. Bracknell Lions man (woman?!) 8 marshalling points between miles 3 and 4 and the money we are paid by the council to do this helps boost our admin account. This means that this, alongside the fee that we choose to pay to be members of the club ensure that all money donated to us goes directly to charity, and makes us be able to operate the way we do.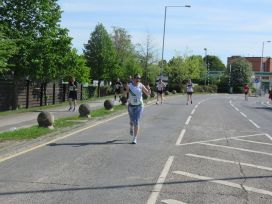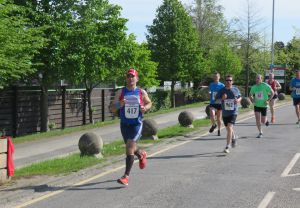 23rd April 2016
Plans are well under way for the Bracknell Show 2016, on Sat 23rd July at Wildridings Playing Fields from 12-5, and then some live music and picnic time from 5:30-8pm! Stall bookings are starting to flood in and we have lots of exciting ideas lined up for the arena too.
In other news, we've had a few busy days so far this year. We spent a day collecting for Marie Curie Cancer Research at our local Tescos stores (thanks to everyone who donated). We've also managed to collect 200 pairs of used glasses for Spec Treck- an initiative from Chichester Lions to collect old unwanted pairs of glasses over the last 35 years. The glasses are checked over and then sent on to Medico France in Le Havre who have the equipment to clean and grade the spectacles ready for use in eye camps in Africa, India and Eastern Europe. Here are two of our club members at the collection point in Alton, dropping off our 200 pairs.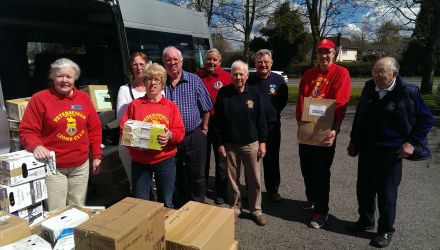 About 14,000 pairs have been collected all in this year, and the running total now stands at 2,973,150. Next year the Lions are hoping to break the 3 million pair barrier, and we're proud to have been part of that.
9th November 2016
Time to promote some of the excellent work of a local fellow Lions Club.
Reading Lions are supporting a free prostate cancer screening blood test for local residents on 10th March 2016 at Circle Reading Hospital.
More information is available here on the Reading Lions Web Page. If you're applicable, please pop along. It could save your life.
30th November 2015
As the year draws to a close, we are busy fulfilling festive requests, planning a carol signing collection and we had an interesting club meeting a couple of weeks ago where we met Caitlin Rentell- an up and coming 14 year old archer from the local area. We sponsored Caitlin to try to assist with some of the huge costs associated with her training, competitions and kit. With all the hard work and commitment she's putting in, we really hope to see her at the 2024 Olympics!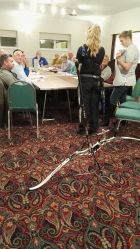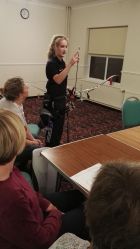 26th September 2015
We have another recruitment drive coming up!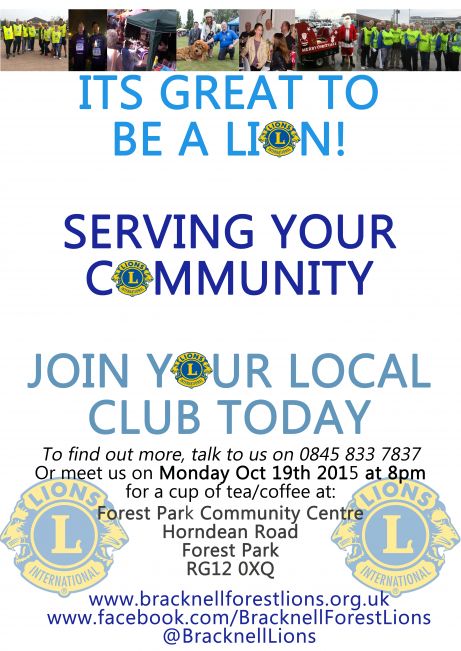 We are looking for new members of any age over 18, male or female to come and join us to help make events like the Bracknell Show even more successful! We are meeting on Monday 19th October at Forest Park Community centre to have a cup of tea and a chat to new prospective members about what we do and how Lions works.
Hope to see you there?
14th July 2015
Well the Bracknell Show 2015 came and went! What a whirlwind- on the run up to the show members of the club were whizzing around all over the place picking up fencing, marking out the pitches, organising a minibus, taking last minute bookings, flyering local households and much more!
But the hard work paid off. The feedback was positive (with some points for improvement) and despite some grey drizzly weather, it was a wonderful and well attended day.
Highlights were the bird flying and gymnastics displays, yummy burgers and ice creams and the wonderful array of different stalls- from carved wooden items, to hand made jewellery to Pies, charity tombolas and information stalls too.
We are currently looking at potential dates for next year, and initial inspection of our accounts show that we made a profit which we hope to be able to distribute to local causes very soon!
Thank you to everyone who helped out, sold or bought a raffle ticket, told their friends or came along on the day despite grey skies!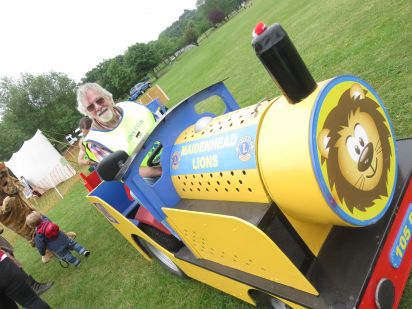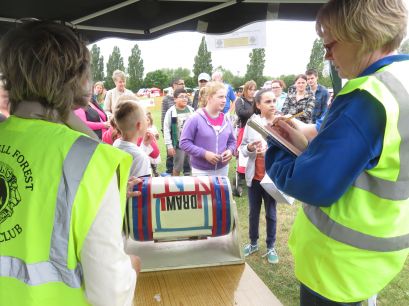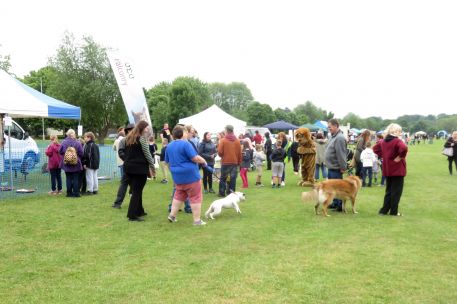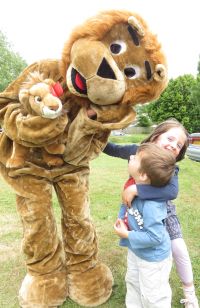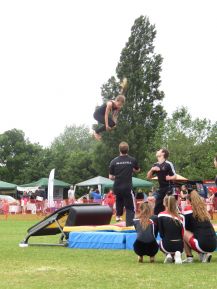 11th June 2015
What a busy few weeks building ourselves up for the Bracknell Show 2015!
We've had a great article in the local press and lots of support from Bracknell Town Council. Information about the show is whizzing around on social media via twitter and facebook with lots of shares!
And tomorrow our press officer Clare will be on BBC Radio Berkshire around 11:30 am speaking to Jamie Crick about the show!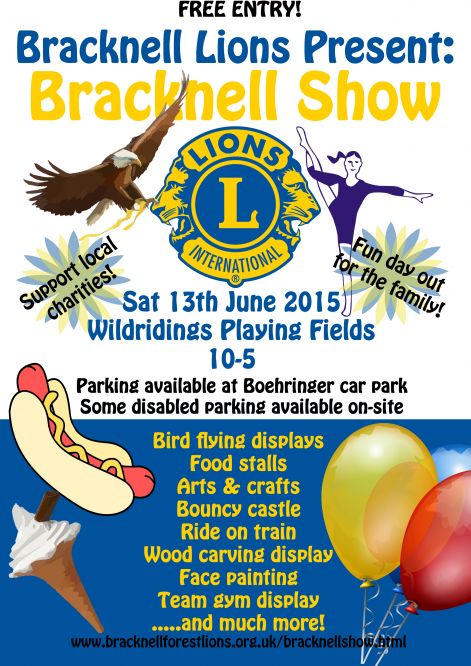 10th May 2015
Today we marshalled the Bracknell Half marathon as we have for many years running. The conditions were great this morning- cool and overcast and look set to stay like this for a while. It's always inspiring to see all the runners with their various charities they support, and Bracknell Lions also receive some money for the help they provide which we can distribute to local charities.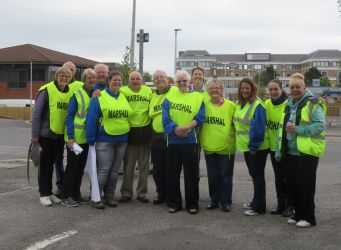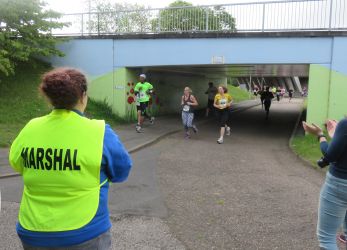 On top if this we have donated £100 to the Nepal Earthquake appeal alongside over $100,000 from Lions from all over the world. More information below about the work being done by Lions in Nepal
http://www.examiner.com/article/lions-international-helps-nepal-after-devastating-earthquake
http://lionsclubs.org/blog/2015/04/25/nepal-earthquake/
3rd May 2015
A bit quiet again from us as we've been busy beavering away booking things up for the Bracknell Show.
There are still spaces for stalls of all kinds, including but not limited to food, face painting, crafts, art, charity tombola etc, charity information stalls and more. If you'd like to hold a stall, please email bracknellshowbookings@aol.com
We already have a great Arena lineup including birds of prey displays, chainsaw wood carving plus bagpipe bands, team gymnastics and cheerleading! This is going to be a fab day out!
We also have limited space in our brochure for adverts- costing from just £25 for a 1/4 page, with 5000 brochures being distributed for free on and before the event. A great opportunity for any local business. Please be in touch on bracknellshow@gmail.com for booking advert space.
And if none of the above apply- please come along and just enjoy the day! All proceeds collected by the club will go to local charities.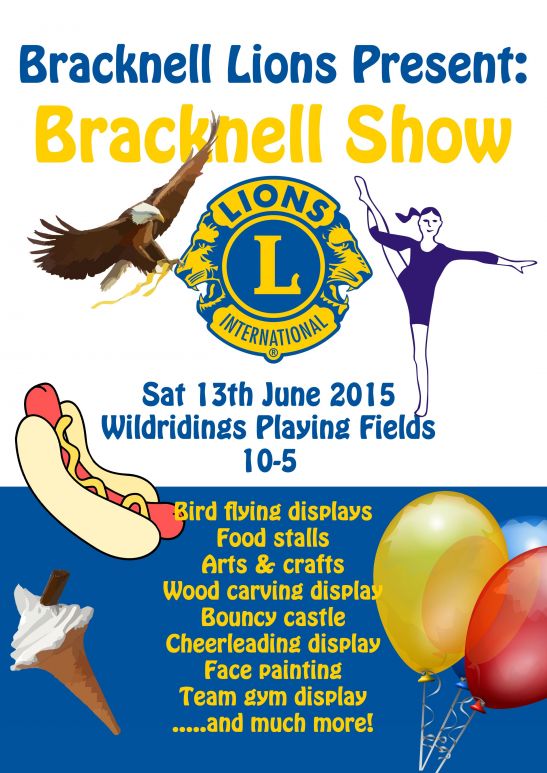 26th March 2015
Bracknell show planning is ramping up! We are very grateful for the support from Bracknell Town Council and Bracknell In Bloom, and are very excited about some of the stalls and arena shows that are booking up for the big day.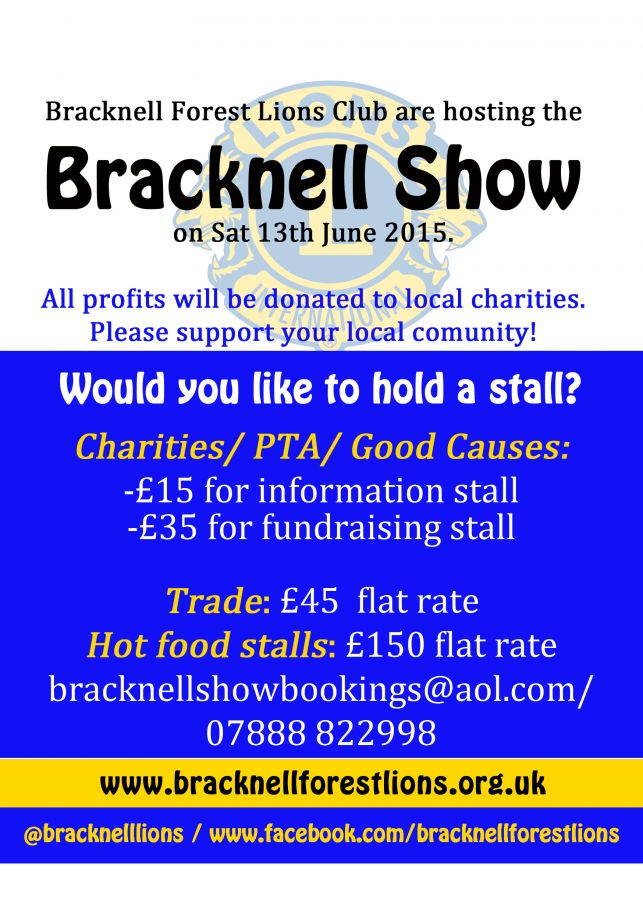 If you're interested in advertising in our brochure or becoming a sponsor please get in touch! Also if you have a stall- food, fundraising, trade or anything else exciting please send off for a booking form!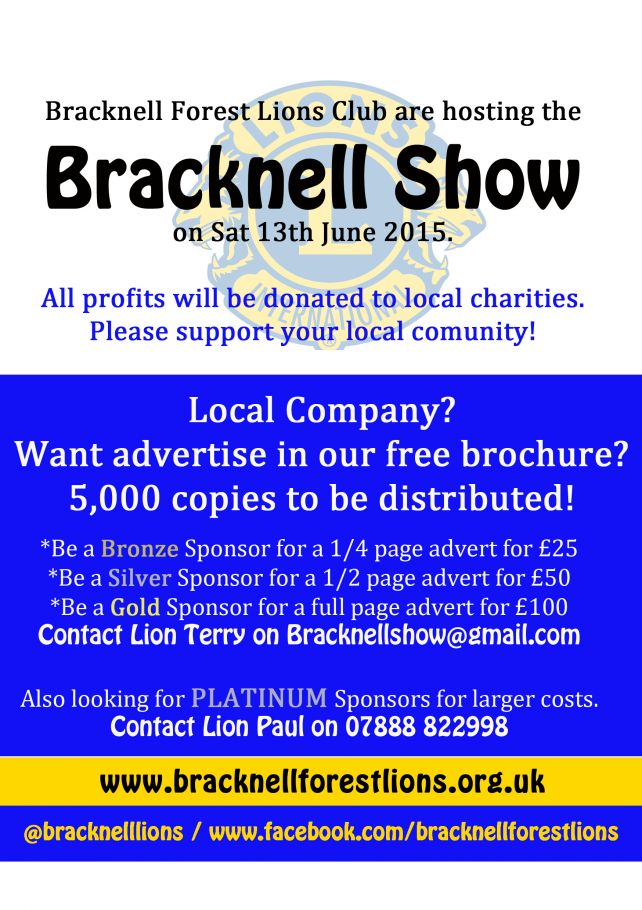 10th Feb 2015
Good news! Bracknell residents can now donate their blue bin recycling scheme points to Bracknell Lions who can make the money go further, donating to lots of local causes!
Pop over here: http://www.bracknell-forest.gov.uk/recyclingincentiveschemegoodcauses to find out more!
And our new flyer for the show is ready to go to print!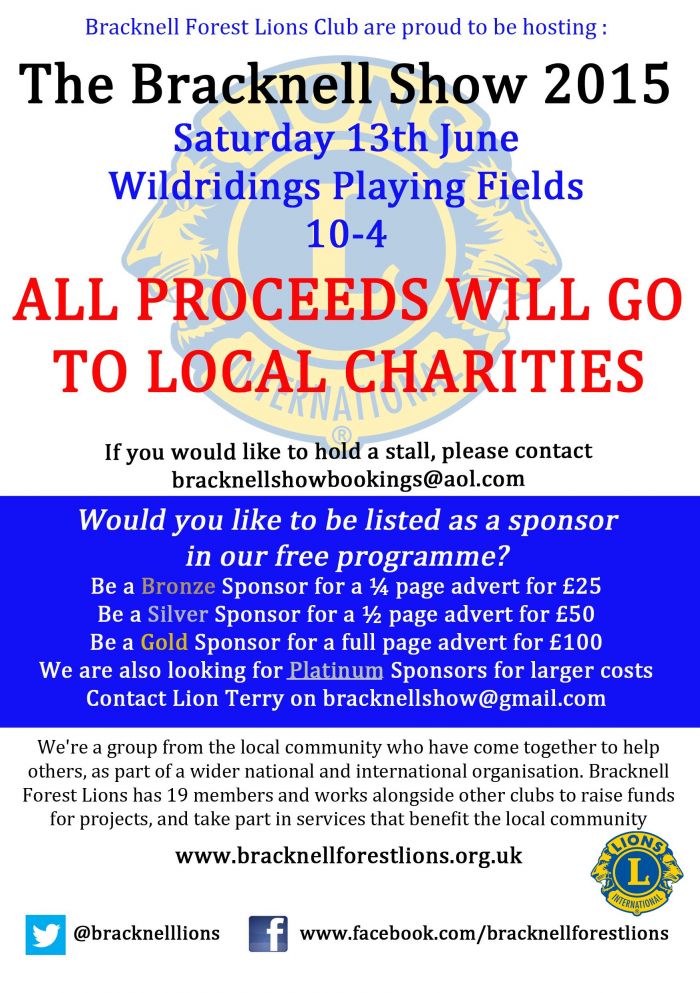 15th Jan 2015
Happy New Year to all.
Today I'd like to tell you a bit more about club member Homer, and his marathons!
Yes, that's MARATHONS, plural!
Homer has run 4 Marathons in the last few months to raise some money for Bracknell Lions, whilst getting fit and losing quite an impressive amount of weight. We are all so proud of him.
The first marathon was at Beachy Head- one of the biggest off-road marathons in the UK (formerly known as the Seven Sisters marathon). Apparently very scenic (though I'd imagine Homer had other things to concentrate on). The rough course passes the Willingdon Hill and goes through Westdean forest, then passes over teo more hills (Windover and Borstal) and finishing up on the windy Beachy Head. Homer achieved a brilliant time of 4 hours 38 minutes.
The second was Trailscape Cuxton Ultra Marathon in Kent, pushing the definition of "marathon" a little by being 29.7 miles (3.5 longer than a normal one). This marathon is through rural Kent, through the North Downs Way, Pilgrims Way and the Wealdway, with hills, flats and muddy woodland. Thought to be a very challenging course, Homer took it in his stride and finished in a superb 4 hours 33 minutes.
The third was Portsmouth Coastal Waterside Marathon in December. It traverses the coastline around Langstone Harbour, from the South Parade Pier to the end of Hayling Billy Line in bitter conditions with a time cut off due to the tide times! Again this proved no problem for Homer who happily finished in 5 hours and 23 minutes.
Finally, Homer outdid himself by entering the Eliminator Race Marathon in East Sussex. The marathon has been designed to push all runners to their maximum, and the course is designed around many natural obstacle- steep hills, cold water, sand, rocks and lots of mud. Homer was one of only 70 competitors who finished this race out of the many hundred who took part, so we applaud him for his 7 hours and 7 minutes time!
Not only did he do all this over the chilly winter months, with evening after evening of training, but he really pushed himself and kindly offered to fundraise for the Lions Club to donate to local causes.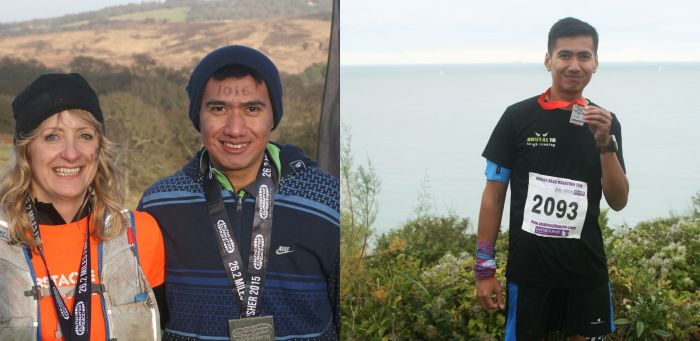 16th December 2014
Hello! A slightly early happy Christmas to you all!
We fell like all our Christmases have come already this year, with lots of new members, some wonderful events and exciting things to look forwards to.
This month we have two Christmas collections around the local area. Last weekend we were at Tescos at Martins Heron with a tombola and tin shake to raise money for The Ebola Fund, to whom we have already donated £150. The club raised £372.56 during the day so a huge thank you to Tescos and to everyone who donated.
Our next collection will be at The Point Tescos this coming Sunday, the 21st December, and we look forwards to seeing you there!
Our club have also helped out at the Me 2 Club Christmas Party for a 3rd year running, assisting with the costs and by helping out on the day. It's always a great event for both the children and their volunteers, so thanks for letting us be a part of it!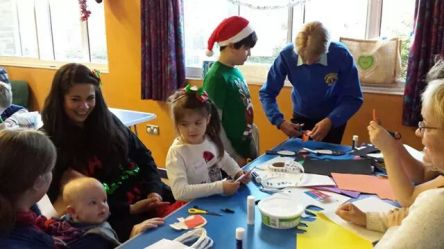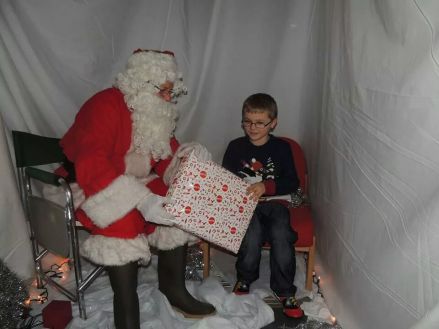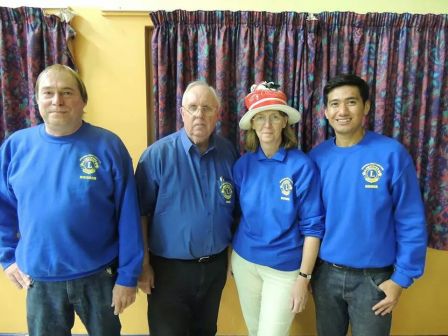 We are also looking for potential stallholders for our Bracknell Show 2015, so please get in touch if you'd like to hold a stall there!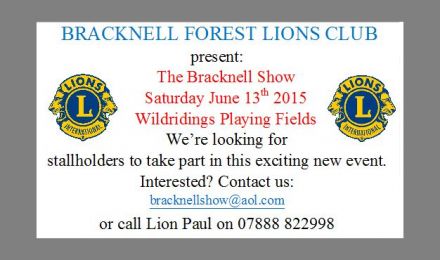 18th November 2014
In other news, Club Member Homer is running 3 marathons in 3 months to raise money for the club, and in turn for local causes! If you'd like to support his amazing effort, please visit his BT My Donate Page:
https://mydonate.bt.com/events/bracknelllions/190190
Thank you and well done Homer! (More info to follow as he battles his way through the mud and up hills to his goal!)
11th November 2014
On Sunday club members laid a memorial wreath alongside other service organisations and charities at the War Memorial outside St Josephs Church in Bracknell Town Centre. We were honoured to be asked to lay a wreath and look forwards to a continued partnership with the Royal British Legion.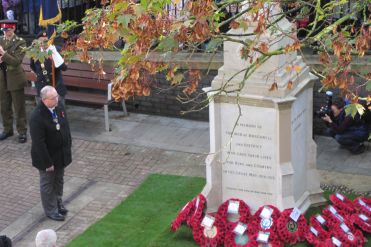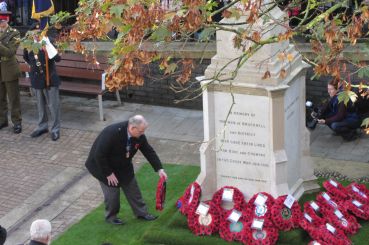 We also are very excited to announce that we will be running The Bracknell Show in June 2015 on the Wildridings Playing Fields. This used to be a popular event in Bracknell but sadly hasn't been run in many years as there has been no-one willing to take on the task. Our club, with renewed energy and many more members has decided this is a task we can handle and are looking forwards to getting stuck into planning.
***** If you are a stall holder, charity or if you can offer a service or activity and would like to support this event , where all profits will go directly to local charities, then please get in touch.*****
In other exciting news, we had some awards given out to members at the last two meetings. Both Helen and Mike were awarded the "District Key" for helping open doors and sponsoring three new members each.
Mike receives his Key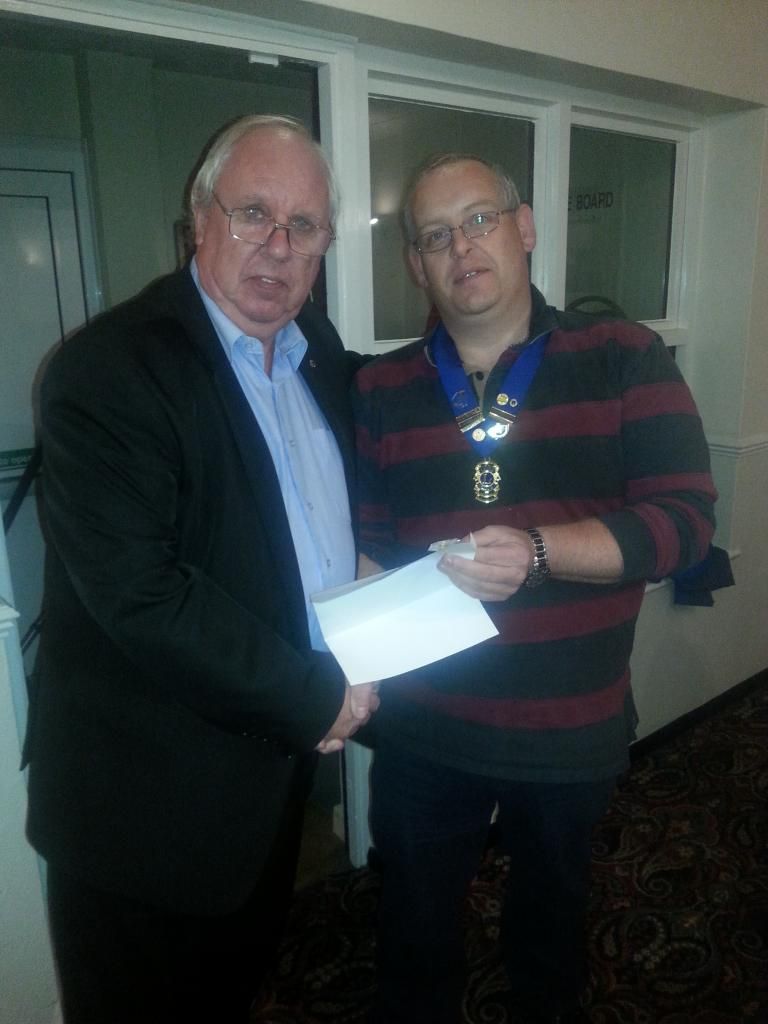 On top of this Clare received her 15 year membership pin and new member John who has transferred from another club, has just been awarded his 30 year membership pin! Congratulations to all!
John receiving his membership chevrons
23rd June 2014
At the weekend we held a lovely Handover BBQ. The Lionistic Year runs from June to June so we had a social event to celebrate the handover to our NEW PRESIDENT PAUL. Congratulations Paul. I will continue to be webmaster for the upcoming year, but will bully Paul into writing some blog posts too!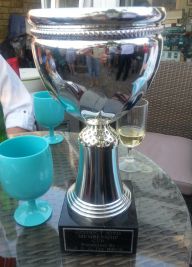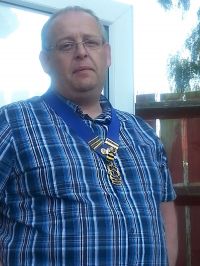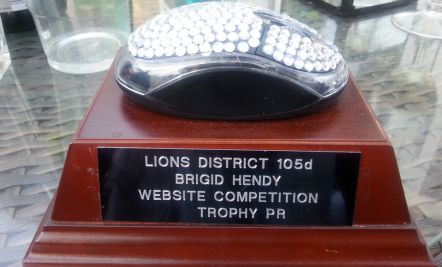 18th June 2014
Yet another apology for a long gap since I last updated. The club are doing brilliantly with lots of new members, and new opportunities that come along with it. Some of our members recently enjoyed a training day to give them a better idea of what the officer roles involve and there are lots of fundraising, service and social dates going into the calendar.
I negated to mention in my excitement at winning the Website award for the District, that our club also won two further awards at the Convention.
Congratulations to us all for the hard work towards increasing our membership and thanks to all our new brilliant and enthusiastic club members- we were proud recipients of the District Membership cup. And a heartfelt congratulations to Lion Steve Pope who was awarded a Personal Banner from Lion Phil Robinson in recognition of his work within the club. Steve is of the original founding members of the club and is still working hard today!
7th April 2014
Another big gap since the last update!
This is an update filled with GOOD NEWS- after all the efforts of the last three years, this website has won the Lions District 105D Website Award for PR!
It's taken a lot of hard work to get the website up to standard over the past three years, and thanks to the club for continuing to send information over. More information available on the District Website.
11th February 2014
Apologies it's been a while since the last post!
It's been rather wet in our part of the world, luckily Bracknell tends to fare well but many of our neighbouring towns and regions are affected badly by the flooding so we are thinking of you all.
I forgot to upload the pictures from our 45th charter anniversary party in November, so here they are!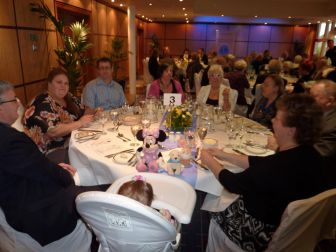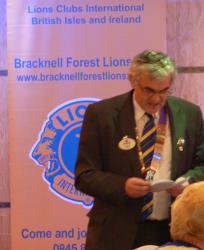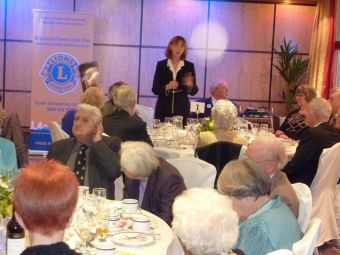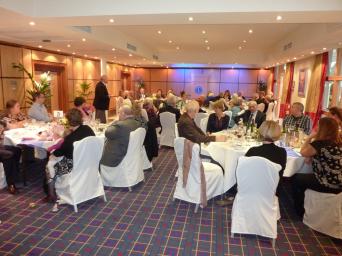 1st January 2014
Happy New Year to all!
We have come such a long way in the last year- with our club almost unrecognisable from where we were 12 months ago.
December has been busy- we helped with the Me2 Club Christmas Party at Woodley contributing £100 towards the food and supplying the Father Christmas and official photographer for the 100 or so youngsters with special needs who attended the party.

We also ran two tin shakes outside Martins Heron Tescos and Tescos at The Point for the Lions Multi District Children of Syria Appeal and the Bracknell Foodbank. On the first day we raised £225 for UNICEF in Syriah which was matched by the British Government to total £450. On the second event,, we raised a total of £250 for immediate use in the Bracknell Foodbank over the busy Christmas period.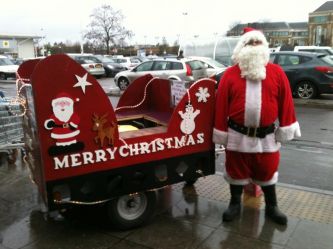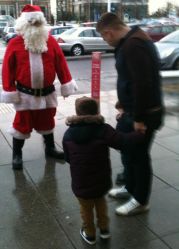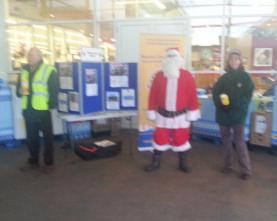 To see what other clubs in the district have been up to over December, please take a look at the District page here: http://lions105d.org.uk/news.html
24th November 2013
The club have been busy again!
Since my last post we have celebrated our 45 year anniversary charter with a lovely lunch at The Grange Hotel in Bracknell, and manned a tombola stall in the cold and rain today and raised almost £200!
I also negated to mention our highly successful race night where the club raised over £700 for local causes and got a lovely article in the paper.
And a big thanks to June for all the lovely photos she has been taking of recent events!

4th November 2013
Hello all!
I just wanted to quickly thank everyone who has been in touch via our website- about causes to support, help requested or an interest in joining the club. It really proves to me that creating this website and taking the time to keep it up to date is worthwhile!
We have another new member to boast about- welcome to Andrea who joined us at our October meeting.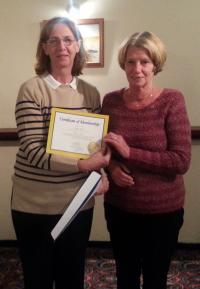 Andrea being badged up by Brigid
We have a busy schedule for the rest of the year with Wokingham Winter Carnival, the Me 2 Club Christmas party, our 45 year Charter anniversary and Christmas collections so we may well see you around!
1st October 2013
We have been so busy! I say "we"- I've been busy with a baby and the club have been beavering away getting our diary sorted for the rest of the year and doing lots of exercise!
On top of the Maidenhead Lions fundrun, 7 hours later two of our new members completed a full night marathon- SHINE UK 2013 in aid of Cancer Research UK! What troopers!
Homer said:
"Richard and I (Homer ) completed the course in flying colours , the last 6 miles being a constant battle against our minds and bodies. But we did it as a true Lions and although we are both aching after the event ( don't forget we also did the fundrun 7 hours ago ) we are already discussing next years event."
A HUGE well done to both of you. Richard and Homer raised a massive £1,650!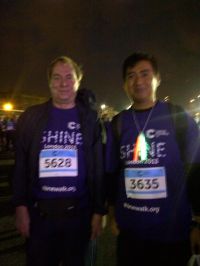 A very tired Homer and Richard!
28th September 2013
Maidenhead Lions Fundrun was a superb success! Thanks to Maidenhead Lions for organising, to all club members who took part and to everyone who sponsored our team. We managed to raise £625, which will be split between Thames Valley Adventure Playground in Taplow and the rest will go towards the Pulse Oximeter mentioned in the below post. Our team managed 50 laps and came in third place, but also raised the largest amount of money! Great work everyone....
There's a gret article on the Maidenhead Advertiser website here, includoing a number of fantastic photographs of all competitors/ fundraisers .
Our supporters also took some great photos! Thanks!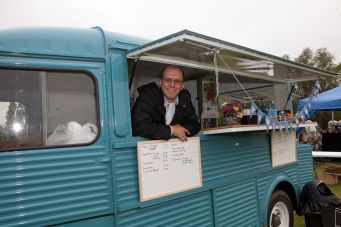 The club preparing for their physical exertion!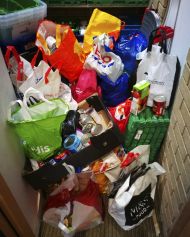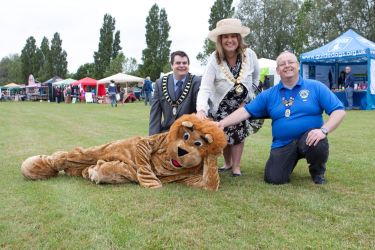 Some of the relay changovers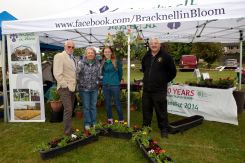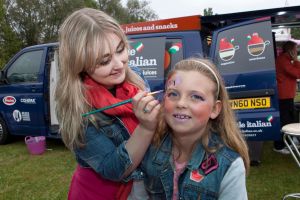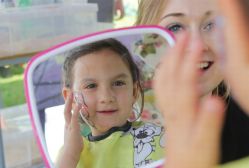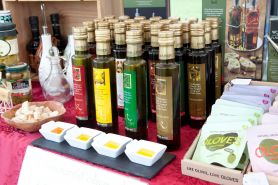 24th September 2013
Some personal and some club news!
Apologies for being a bit quiet a the moment, I have been busy getting used to having a small baby in the house! I will try to keep up with club activities and keep the website and blog up to date.
We have just bought a Pulse Oximeter for a young boy in the area who has been diagnosed with a rare syndrome called Hypoplastic Left Heart syndrome. This is a serious congenital heart defect that was diagnosed at the neonatal stage of development and treated at birth. However he has now undergone two surgical procedures and will require more operations in the future.
This condition causes poor oxygen supply to vital organs and therefore peripheral oxygen levels have to be monitored at least once per week, which currently involves a trip to the local Hospital. This could be carried out at home using pulse oximeter. This is a painless non invasive procedure, a sensor that detects red light is attached to the patient, in the case of infants it is in the form of a band that wraps around the foot. The device converts the intensity of red light in to % of oxygen present in the tissue. This can be carried out by the community nurse or even the parents. Unfortunately these devices for home use are not available through the NHS, so the club purchased one for the family to use.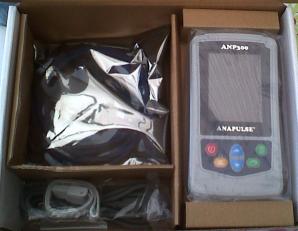 In other news, we are putting a team together for the Maidenhead Lions Fundrun at the end of this month (please get in touch if you'd like to sponsor us!) and don't forget our Race Night coming up on Sat 19th October! Email us for a booking form!
5th September 2013
I had a great afternoon yesterday with some friendly faces from Maidenhead Lions (who helped us with our recruitment drive earlier in the year) at Jealotts Hill Community Landshare Project in the North of the borough. It's a superb project that our Lions club heard about when it was starting up two years ago, with land donated by Syngenta. As we were unable to donate much time or money straight away, we told the other Lions clubs in our Zone about it and stayed in touch with David, the project manager to see how we might be of assitance as the project developed.
Two years on and the garden looks superb- and our club is looking forwards to seeing how we can donate time and money to the project, which brings together groups from all over the community. Groups can share a plot of land to work on, assist with looking after the orchard, vineyard or polytunnel plants or visit for recreational use.
We were able to drop off two beekeeping suits which had been donated, which David said will help visitors and volunteers learn from their professional beekeeper who has been nursing the hive back to life after a dificult winter.
At yesterdays event, I enjoyed a tour of the facilities and the gardens in beautiful sunshine and got to witness the official opening of the Polytunnel and the new office and meeting room area. In addition, we found out that the project has won a National Award which they look forwards to receiving later in the year.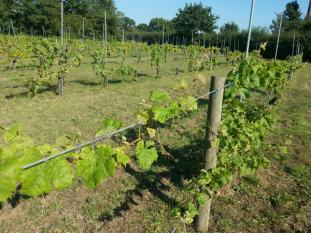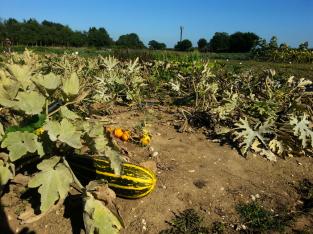 Vines and huge marrows growing at the landshare project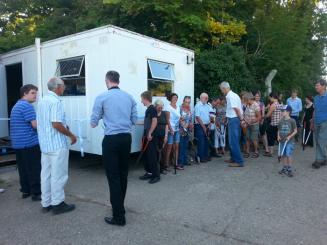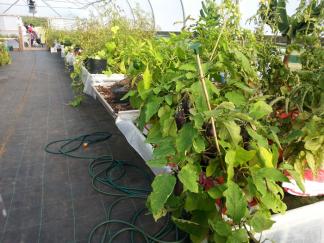 Volunteers assist with the official openeing and lots of exciting things growing in the Polytunnel
David Putt's shopping list of time, items and donations
What a fantastic afternoon!
28th August 2013

Thanks to Paul, one of our new members for writing a little something about why and how he joined Bracknell Lions:
"Whilst sitting at home reading the local free paper I noticed an appeal for new members to join the Bracknell Lions as they were down to 5 members, Having done various fund raising for local charities close to my heart I felt that attending a meeting of a long standing organisation would enable me to meet other dedicated people who devote their time to raise money for local charities.

The evening I attended opened my eyes to the organisation not only as a local group but the lions as a worldwide group of people from all walks of life devoting their time to raise money for the people who need support. I was made to feel very welcome at the meeting and any nerves disappeared very quickly as I was offered a coffee and biscuit !! Last time this happened it cost me a pint of blood, this time it cost me two hours of my time which enlightened me to things that I would not of known if I had just ignored this article in the paper.

Since this first meeting I have returned every second Monday of the month and I have helped at the May carnival in Wokingham where we had a stall to raise money for charities local to Bracknell. The difference I feel with the Lions is that the money raised is for local charities and not a larger organisation where so much of the money raised seems to get lost in administration costs.

I am now a member of the Bracknell Lions and have made new friends and feel that every hour spent with the lions planning ways of raising money for local charities and individuals that need time or support is fully rewarding."

I hope that inspires some of you readers to think about joining!
26th August 2013
Thanks to Brigid for sending me this picture from theAscot Golden Age Retirement fair which was held last week at Ascot Race Course.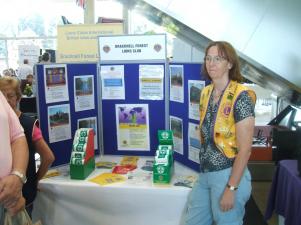 We gave away for free a huge number of Message In A Bottle Packs (click link for more information) and spread the word about what it is to be a member of a Lions Club with our information stand!
15th August 2013
Hi all!
We're busy planning for our upcoming Charity Race Night!
It will be held on Saturday 19th October at Bullbrook Community Centre to raise money for local charities. It's a bargain at £10 for an adult, £6 for a child (under 12) or £30 for a family ticket- which includes a jacket potato and chilli! You can get hold of a booking form by using the Contact Us page of the website, or emailing president@bracknellforestlions.org.uk or secretary@bracknellforestlions.org.uk.
We'd be grateful for anyone who wants to support this evening- and if you can't be there in person you, your club or company can always sponsor and name a race (£20), buy a horse (£5) or a jockey (£2). Please get in touch if you're interested in doing that.
As you will likely know if you've read this blog- our club has struggled for membership for a few years and it has been very hard for us to run events. After an intense membership drive this year (alongside all our normal fundraising and services activities) we have managed to boost our membership now to 12 people! This is our first big event with all our new members, so lets make it a great one!
5th August 2013
Guest Blog time!
Thanks to brand new member Linda for writing a little piece about why she joined Bracknell Lions:
"My husband, Colin, and I moved away from the area about 26 years ago and went to live in Devon. We retired last year and came back to Bracknell last October as we felt we were a long way from good friends and family and driving up and down to meet up would become more of a chore as we all got older.
Although we do have friends in the area, I was looking to join some form of voluntary group to meet people and do some voluntary work . . . . and there on the front page of the local paper was the article about the Lions looking for members!
So, I hope to be able to play a part in Bracknell Forest Lions in future. I have a part time job at the moment, but intend retiring again before too long. Colin and I are keen walkers and I do a bit of running. However, next year I shall not be running the Bracknell Half Marathon - but marshalling it with the Lions!"
17th July 2013
It seems that blog posts are like busses! Have another one!
At Mondays meeting we badged up a further 4 new members! Thanks to brand new District Governor Dave Merchant for helping with the process, and welcome to Homer, Richard, Linda and Jane! This is in addition to Naomi and Paul who joined us last month. We now have DOUBLED our membership since March! Thanks to all who helped us!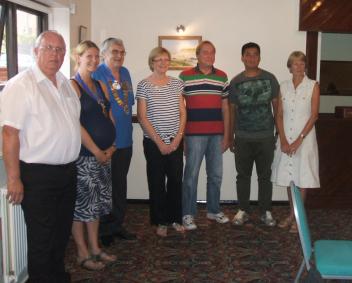 It comes at a good time- as you can see I'm almost ready to pop and will be taking some time off from the club from September when my baby is due. Rest assured I will keep the blog as up to date as I can!
We enjoyed our club visit from the District Governor David and his wife Di, who told us about her charity for the year, Missing People" who support both missing people and the families left behind, help reconnect them and provide support, advice and practical help.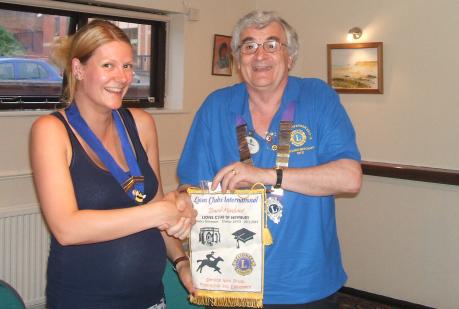 Here I am with our District Governor receiving his banner! Thanks David!
I also received a lovely quote from Sarah Watson at the Me2Club (see blog post from 13th July) which I wanted to share with you all!
'The Bracknell Forest Lions were a superb help at our summer trip for the children and families we support - we really couldn't have done it without them! They were enthusiastic and energetic and their help meant that children and families had an action packed, fun day out celebrating 10 years of Me2 Club - a big Thank You from everyone at Me2 Club!'
13th July
Happy Summer! It seems like summer finally arrived at the start of the month when we went to help out the Me 2 Club at the 10 year anniversary party at Thames Valley Activity Park in Taplow.
It was a gorgeous sun filled day, and all the children and their volunteers had a great time!
We organised the registration, treasure hunt and food and I did a little photography too. Thanks for letting us be part of it!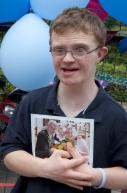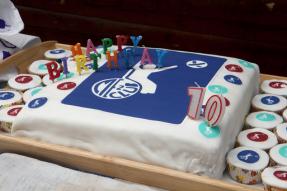 We also have two members in Hamburg at the Lions International Conference this week. Here's one of them at the International Parade in yet more sunshine!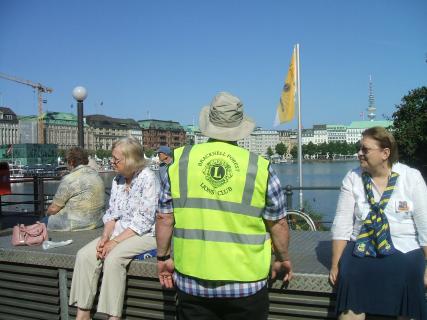 21st June 2013
Our brand new twitter feed is up and running! Click the link below to find us and please "follow" for more up to date information!
12th June 2013
2 new members badged up at Mondays meeting (hurrah!) and I thoroughly enjoyed helping at Burnham Beeches Bike Race. Not quite the torrential rain of last year nor blistering sunshine of the year before, but it was clear everyone enjoyed the challenge and raised lots of money for local charities!
Here's us in position ready for marshalling, and Steve getting to try out an unusual bike!
1st June 2013
[EDITED]
Sadly we've had to postpone our race night due to some timing issues, but hope we will be able to run it soon. Watch this space!
8th May 2013
We have been lucky so far this year! After a wet and cold and grey start to 2013, we've just attended our second sun-filled event! Wokingham Lions May Fayre on Monday 6th May was a complete success at the Bracknell Lions stall. Many of our new prospective members came to help us run the tombola, and not only did we make a fantastic £350.70 profit which we look forwards to distributing to local charities, but we also ran out of prizes and didn't take any home with us. A well organised and well attended event, with lots of smiling faces in the sunshine.
Thanks to everyone who helped out, had a go and to all the businesses that kindly donated prizes, including but not exclusively: Avon, Monkey Mates, Jakes, The Look Out, Bracknell Leisure, John Nike, Waitrose, Panasonic and many more.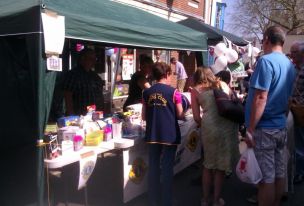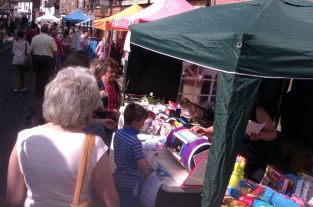 Our busy stall in the sunshine!
28th April 2013
Today we (HURRAH!) had sunshine and not-too-cold weather for marshalling the Bracknell Half Marathon. Thanks to all our current and prospective members who came along to help out (plus Linda who actually RAN tha half marathon in a great time).
Here's a few snaps of the runners with a glimpse of one of our marshalls too!
10th April 2013
Since my last update, we held a meeting at Martins Heron and The Warren Community centre, which was attended by the club, 7 potential members and our Discrict Governor Roger Munday. During the meeting we put lots more dates in the diary for the rest of the year, which are on the whole dependant on us being able to expand our membership. If you would like to find out more or attend our next social drinks or meeting, please either pop over to our Contact Us page or email Secretary@Bracknellforestlion.org.uk .
You can also keep up to date on what is coming up in our calendar by heading over to our Events page.
In exciting news, Lion Mike Hendy was awarded a long service award at our meeting on the 8th, to thank him for 25 years dedicated service to Lions. In that time he has held senior positions in both District 105A and 105D, and is currently the 1st Vice District Governor for 105D. He has run countless District conventions, Leadership and New Lion courses, run Long Range Planning committees, sat on Finance Committees and much more, alongside his duties the club he's been a member of at the time. Well deserved, and WELL DONE Mike!
Lion Mike with his long service award and Roger Munday (District Governor) with a Bracknell Lions Banner
27th March 2013
The Club were absolutely delighted to have 16 people attending our open evening on Monday 25th March. On top of that we had apologies from 3 others who have committed to attend our April business meeting on the 8th.
Attendees watched a DVD produced by Lions in the UK and Ireland showing the broad spectrum of activities do locally, nationally and globally followed by a brief presentation on the history and current status of Bracknell Lions Club followed by a question and answer session and the opportunity to mix with club members present whilst looking at static displays and literature with a cup of tea and a biscuit!
Several attendees expressed the wish to attend the next club meeting and we look forward to seeing them again. We are very grateful to the Bracknell Standard for their publicity as some attendees had got the information from last weeks edition and Twitter.
Before the hoards arrived
Enjoying a short presentation

If you didn't manage to get in touch with us before our open evening but would still like to learn more, don't heistate to get in touch, via our Contact Us page or on secretary@bracknellforestlions.org.uk.
23 March 2013
Don't forget, our membership open evening is in just 2 days!
If you would like to attend, please let us know by using the Contact Us page of of website, or emailing secretary@bracknellforestlions.org.uk. This will help us cater for you on the evening.
It starts at 8pm and will be held at Martins Heron and the Warren Community centre on Whitton Road (Monday 25th March 2013). It will be an opprtunity for you to learn a bit more about what Lions do, and to see what we've been up to in your local community for the past 45 years!
Thanks to the Bracknell Standard for their helpful article to really promote our memebership drive and open evening. You can read the full piece here on the Bracknell Standard Website. You can find the community centre at the Martins Heron Tescos.
10th March 2013
Hello readers!
We had a busy weekend, collecting for Marie Curie Cancer Care at Martins Heron Tescos store in Bracknell. We also had a membership stall, whilst members of some local clubs were helping us spread the work about Bracknell Lions in the local community.
Thanks to everyone who stopped by to chat to us or donate to Marie Curie.
14th February 2013
Hello to all reading and thanks for the correspondance so far in 2013.
Here's a quick update about our recruitment drive:
DATE: 25TH MARCH 2013
TIME: 20.00 TO 21.00
VENUE: DOROTHY HAYES ROOM, MARTINS HERON COMMUNITY CENTRE, WHITTON ROAD, RG12 9TZ
We, the members of Bracknell Forest Lions Club, would like to invite you, your partner and friends to join us on this initial information evening to find out about the Lions Club of Bracknell Forest - who we are and what we do. In summary we are a small group of local men and women who offer our time in helping the young, the elderly and the disadvantaged in our local community. We also have a varied social activity programme; even when we are fundraising we like to enjoy ourselves.
On arrival at the hall you will welcomed by current members of the club; at 20.00 there will be a brief introductory presentation by DVD and a few slides followed by a question and answer session between people attending and club officers. Following this will be tea and coffee and the opportunity to mingle with the members of the club who will be happy to tell you more about what we do - at local, national and international level.
Bracknell Lions Club has been in existence now for 45 years and in its earlier days regularly organised major events in the town for the benefit of the community including a Bracknell Carnival - this is no longer possible with the few members we have but we would love to aspire to do this in the future hence the appeal for new members to enable the club to stay in existence.

If you are interested in attending this event, please drop a quick email to secretary@bracknellforestlions.org.uk to enable us to cater accordingly; look forward to meeting with you on the night.
With kind regards

Clare

Lion Clare Dowling
President, Bracknell Forest Lions Club
11th February 2013
Welcome to February and a belated HAPPY NEW YEAR!
The biggest news is that we are doing a big recruitment drive in March, around the Martins Heron area of Bracknell.
If you'd like to come to speak to us to find out what we do, we will be at Martins Heron Tescos, collecting for Marie Curie Cancer Care from 9:30-1pm on Friday 8th March and during the day on Saturday 9th March. We will have a membership stand too, so please feel free to come along to have a chat and find out more.
We will also be doing a leaflet drop in the surrounding area during that week, cumulating in meet and greet evening on Monday 25th March in the Martins Heron Community Hall.
It would be great to see you there, so please either get in touch via our "Contact Us" page or come and see us at Martins Heron Tescos in a few weeks.
24th December 2012
Happy Christmas/ Winter Greetings one and all!
It's lovely to go into the festive season knowing that we've been able to help people enjoy Christmas. This year we've donated £50 again to the Me 2 Club on our boaders in Wokingham- this pays for the food at their Christmas Party. The Me 2 Club:
"...helps children and young people aged 5 to 19 years old with additional needs to participate in mainstream activities playing and socialising alongside other children. This is made possible by providing a trained volunteer to offer one to one support."

So young volunteers work intensively with children and teenagers that might not normally be able to take part in activities like guides, sports clubs and residential trips. The volunteers work really hard, so their christmas party is a great way to get all the children and volunteers together for a fun afternoon of cake and entertainment.
We were very grateful for a mention in their December newsletter too!
We also had the pleasure of donating to Bracknell Food Bank, and we put together and delivered some food parcels for local MS sufferers. I hope that helped make some happy christmases :-)
1st December 2012
Well done me for updating the blog!
Last weekend was Wokingham Winter Carnival, with much better weather than expected! We were a but worried at first because it was really windy and wet on the week leading up to the carnival, and we were concerned about keeping our gazebo safely weighed down. Luckily when we woke up on Sunday, the sun was out and the wind had died down (although still gusty). It meant that lots of people came out to enjoy the stalls, and we made lots of money for charity. Thanks to everyone who helped man our stall, to all the wonderful people and companies who donated prizes (including but not exclusively Panasonic, Ascot Race Course, The Lookout, John Nike, Waitrose and many more), and everyone who had a go at the tombola whether you were winners or not!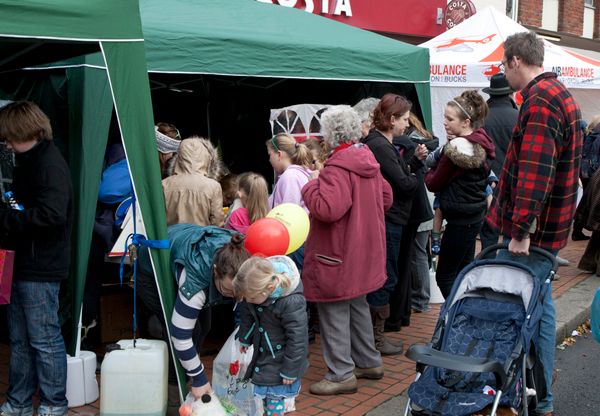 We got very busy!
Today two of our members are helping out at the Me2Club Christmas party again, which was great fun last year. The Me 2 Club helps children and young people aged 5 to 19 years old with additional needs to participate in mainstream activities playing and socialising alongside other children. This is made possible by providing a trained volunteer to offer one to one support. Each year they do a party for their volunteers and children together to celebrate the friendships and say thanks for the volunteers. I hope it's as much fun as last year!
23rd November 2012
I can't believe how long I've gone without an update! Apologies to all, and thanks for your emails and requests- we do our best to accomodate the requests we receive. At our last meeting, we wrote cheques for the Windsor Theatre Describers, the Me2 Club (for their Christmas party, as we did last year (see our event page for last years' success!))
Now- a request for you! Our club is starting to really struggle with numbers. There's just 5 of us as official club members, which makes it really hard to run successful events, raise money and help people in our local communities. Why join Lions? Well I decided to google it as I was sure someone had already had some good ideas, and I was right. Here's what Lions Australia have to say:
1. Friendship. In an increasingly complex world, Lions provides one of the most basic human needs - the need for friends and friendship.
2. The opportunity to make a difference - as an individual you can have a limited impact, but as part of a group, you can achieve so much more - in your community, your country, your world.
3. Personal growth and development - Membership in Lions aids your growth and education in human relations and personal development.
4. Leadership development - every Lions member is encouraged, and has the opportunity to build their leadership skills and to serve in a variety of positions, both at club level and beyond.
5. Citizenship in the community. Membership in a lions club brings you more awareness of your community. The average Lions Club has at its heart the intention to make the community it serves a better place to live in, and does this with a variety of programs tailored to the community's needs.
6. Continuing education. Interesting guest speakers bring a range of views and information for club members. Opportunities for personal and leadership development are offered.
7. Fun. Lions is fun. A lot of fun. Each meeting is fun. The club projects are fun. Social activities are fun. And the service is fun.
8. Public speaking skills. Many an individual who joined Lions was afraid to speak in public. Lions develops confidence and skill in public communication, and the opportunity to practice these skills in a friendly setting.
9. Citizenship in the world. Every Lion wears a pin that reads "Lions International". Every Lion is welcome to attend the 41,000+ clubs in more than 190 nations and geographical areas of the world. Some 1.4 million men and women are Lions. Instant friends both in one's own community and the world community.
10. Assistance when travelling. Because there are Lions clubs everywhere, help is only a 'phone call away should you need it. Using the International Directory, you can easily contact the local Lions Club, wherever you are.
11. Entertainment. Lions Clubs organise many different activities that provide entertainment as well as education.
12. The development of social skills. Lions is for people who like people. Once a month at meetings, and at various events and functions, Lions helps to develop social and people skills in its members.
13. Lions "do".Wherever there is a need, you'll find Lions there, actively involved in getting the job done. Always ready to roll up the sleeves and find a solution. No job is too big or too small.
14. Family programs. Lions has a range of programs for our youth - Leo clubs, Youth exchange and hosting, the Youth of the Year Quest, the Lions-Quest Skills programs and other programs that involve the family.
15. The development of ethics. All Lions Clubs embrace the same set of ethics. Lions are expected to be ethical in business and personal relationships.
16. Cultural awareness. Around the world, practically every religion, country, culture, race, creed, political persuasion, language, colour and ethnic identity is found in Lions. It is a cross section of citizens from every background. Lions become aware of other cultures and learn to love and work with people everywhere. It is truely an International organisation.
17. A wide range of programs providing help for the disadvantaged both locally in internationally - Sightfirst - a worldwide program to eradicate preventable blindness, Hearing dogs for the deaf, provision of mobility aids for children, to name but a few.
18. Nice people. Lions above all are nice people, who genuinely want to give of their time, labour and means to assist others, and have a lot of fun while they are doing it.
19. The absence of "official creed". Lions has no secret handshake, no secret policy, no official creed, no secret meetings or rituals. It is open society - of men and women who simply believe in helping others.
20. The opportunity to serve. Lions is a service club. This is the best reason for becoming a Lion: the chance to do as a group what we cannot hope to achieve on our own, to serve our fellow man, and to make the world a better place. Our motto is simple, but it says it all. "We Serve".

If you think you might be interested, we are organising a recruitment drive at the start of next year- but if you can't wait, please get in touch! You are welcome to come to a meeting or social event and get to know us with no obligations to join the club at the end, and no hard feelings!
15th July 2012
I'm a bit behind, but last weekend we had an enjoyable if wet time at Crowthorne Carnival. It's a real shame that the heavens opened when they did- just as the carnival came into the main field. Unfortunately this meant that a some people decided to pack up their brollies and go home for lunch rather than staying to look around the lovely stalls like ours! Never mind, we still had a good day, and made some money for charity at the same time.
Here's Brigid modelling a SIGNED READING FOOTBALL CLUB SHIRT- it was signed by the whole team who helped them get to the premiership and we raffled the shirt off at Crowthorne Carnival! Thanks to everyone who took part, and I hope the young lad who won it really enjoys it!
In addition to all this, we are getting very excited about the Jealotts Hill Community Landshare project which the club are not only getting involved in, but also sharing the project with the Lions Zone to get other clubs onboard too.
From their website:
What's it about?
This project will give local resident groups a unique opportunity to work and support each other on horticultural activities. The concept of sharing skills and produce will be at the heart of the scheme, with local groups and individuals working together to grow fruit, vegetables and other plants. In addition the aim of the project is for these participants to act as mentors to groups who will come to the site to gain skills, knowledge and therapeutic benefits from growing produce and tending to the site, such as groups of young people or older people, people who are looking for employment and people with disabilities.
17th June 2012
Today I enjoyed popping to the shops to buy some essential items for The Bracknell Foodbank and dropping them off at the Kerith Centre! Good way to spend a Sunday morning!
4th June 2012
It's been a while since the blog was updated, so I thought I'd just post a nice Thank You that we received from Brian Amorowson, Lion of Stowmarket club who has just acheived a pretty impressive journey.....
Brian turned 75 on 12th April 2012, and had decided to ride his bicycle all the way around the perimeter of England- over 2,000 miles to raise money for charity. Well done Brian!
7th May 2012
Hello readers!
Thank goodness the sun has come out, as we spent a soggy day over at Wokingham Lions May Fayre today. Despite the weather, the foot traffic picked up about midday and we were complimented on the quality of our prizes and our cheerful attitude (again!). I hope lots of money was raised for charity!
Martin, Helen and Sam look after the stall in the rain.
(Photo by Clare Dowling)
In other news:
I have spent the afternoon re-jigging the website slightly, you can now find lots of photos, links and information over at our past events page. Enjoy!
29th April 2012
Afternoon!
Despite the weather, the club had a great time this morning marshalling the Bracknell Half marathon. It was a bit of a wet one, but the runners were doing brilliantly. Our marshalling position is about the 4 mile point, and we were astounded at how quickly the first few came though, and there were even some soggy fancy-dress clad runners in the group too.
Preparing to get wet- the club and friends.
Well done to everyone who took part!
Some of the runners by Stephen Dowling .
10th April 2012
So you've probably heard enough from me, and I thought you might like to know a bit more about the District Convention which was held last weekend in the Isle of Wight. Here's Club Secretary Mike's account of the weekend:
"At the end of March, nearly 200 Lions from across the south of England, descended on the Isle of Wight for the annual District 105D Convention. The venue was Norton Grange Holiday Camp near Yarmouth. The theme for the weekend was "Carry on across the Solent" and there were some spectacular fancy dress costumes in evidence on the Friday Night for the Host Night evening.
Saturday during the day was the AGM - the business session of the weekend. During this time resolutions were passed or rejected and next years officers for ther Association were elected including Bracknell's own Mike Hendy being voted in as 2nd Vice District Governor to take effect from July 2012. This in fact means that in 2015 Mike will be chairing the convention and leading the 1300+ Lions in this Distict.
Saturday evening saw the glittering Black Tie Banquet and Ball into the early hours and a few sore heads were brave enough to head for the open Q&A session on the Sunday morning with the International Guest from Nebraska, U.S.A. after which it was time to check out and head for the ferries and back to the mainland. Mike, Brigid and Steve attended from Bracknell club - next year the venue will be Windsor and it is hoped more people from the club will be able to attend. Conventions are an annual event in the organisation and are the chance for members to come togther, socialise and use their clubs voting rights for the future of the association."
--------------------------------
5th April 2012
Hello and......
Happy Easter!
What's new?
At our meeting this week we inducted a new member, Martin (HURRAH!), Unfortunately we are sad to see the lovely Veronica move over to a new club due to a house move this year. Good and bad, but keeping our numbers as they are is a positive thing.
We had a busy meeting this week for a number of reasons. Mike who is a longstanding member of the club returned from the 105D District convention which was held in the Isle of Wight as the incoming 2nd Vice District Governor! Well done Mike!
Other news from the Convention was that I was successful in winning the Peter Allen Environment Photo Competition for the district, which is a huge honor! The image had to be submitted with a 40 word caption, explaining the environmental importance and why the photo was chosen.

Here's my prize winning image:
Despite being great at adapting, starlings have declined by 2/3 since the 1970's due to habitat loss. Survival rate for chicks is just 15%.
--------------------------------
23rd March 2012
Good afternoon!
Today it was my great pleasure to organise a donation from the club for Amelia's Miracle. Amelia, who lives in Reading, is just 3 years old and was diagnosed with an incurable, inoperable brain tumour in February. Current UK treatment for children like Amelia is short term and with no positive results, and so her family need to raise a huge amount of money to take her to America to the Burzynski clinic if she has any hope of surviving this awful disease. Please give generously at the above link (Amelia's Miracle) if you can to help to improve Amelia's chances of survival, and her quality of life whilst she lives with the tumour.

http://www.ameliasmiracle.com
--------------------------------

17th March 2012
Lots of bits and bobs to blog about- though very challenging as I have broken my shoulder! I will persevere.....
Even more enquiries coming in through the website- so thanks for that! We are replying to all emails individually and as quickly as we can!
GOOD NEWS!
At our last meeting we received a District club retention award for maintaining our membership levels during the last Lionistic year.which is great news for a small club like ours.
I also wanted to post a picture of our new chain of office (as the last one is full!), with the addition of some new adornment; an international presidents pin and one of District Governor Rons' Bee badges.....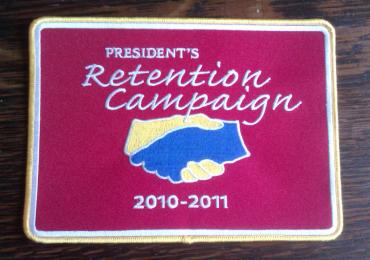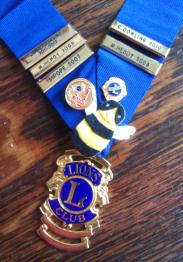 Happy St Patricks Day!
--------------------------------
19th February 2012
Morning all!
It's been a while since my last update, but I just wanted to say we had a great meeting on Monday with a visit from our District Governor Ron Twining and his wife Anne. Lots of things coming up this year including Bracknell Half Marathon, Wokingham Lions May Day Fayre and Crowthorne Carnival! Looks like we'll be busy.
Earlier this year we donated to Bracknell Food Bank at the Kerith Centre, and passed on some more Message In A Bottle packs to some local surgeries who had run out.
Also a HUGE thank you to everyone who has contacted us through our website. Although the site has only been up and running for about 6 months, in January we received 6 different requests, all of which we are replying to individually!
--------------------------------
31st December 2011
Just a quick note from all of us at Bracknell Lions to say:
MERRY CHRISTMAS, and A HAPPY NEW YEAR
16th December 2011
After a great christmas social (with mulled wine, chilli and many desserts!) on Sat 10th, some of us headed off on the 11th December to the Me 2 Club Christmas Party in Woodley. Earlier in the year we agreed to donate some money to this great charity, and it was decided that the funds would go towards the Christmas Party.
(From their website):
The Me2 Club helps children and young people aged 5 to 19 years old with additional needs to participate in mainstream activities playing and socialising alongside other children. This is made possible by providing a trained volunteer to offer one to one support.
The Me2 Club offers support at organised out of school activities such as uniformed groups, youth clubs, sports, arts and social activities.
The party was a superb bash, starting with colouring and drawing, then a visit to see Santa (with pressies for everyone!), a superb clown, and then a party lunch with crackers and party hats! We thoroughly enjoyed helping out not only with the donation of money but by assisting in the kitchen and taking photographs at the event. I think everyone had fun... what do you think?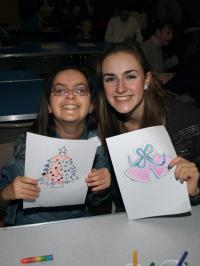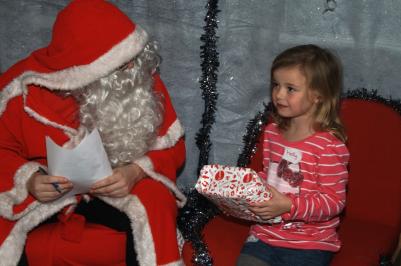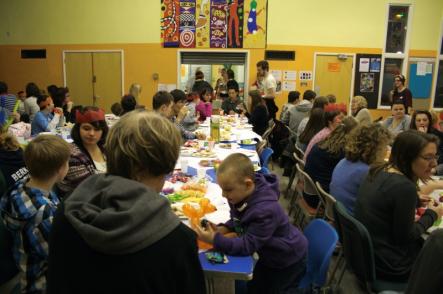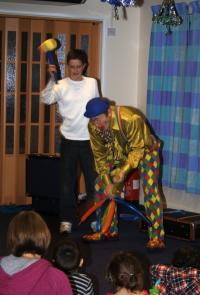 1st December 2011
Wokingham Winter Carnival 2011 was another success this year. Thanks to everyone who donated prizes, and all who visited our stall and gave generously. We made a profit of £285 which will will be donatig to local causes.
--------------------------------
14th November 2011
Had another productive meeting this evening, and now really looking forwards to Wokingham Winter Carnival 2011 in a couple of weeks where we will have our Tombola stall. Hope to see you there!
Thanks to everyone who has sent requests to us on our "contact" page over the last few months, it's great to see that the page is active and that we can assist people in the local area!
25th October 2011
Just been working on updating this website to get it ready for the District 105D website competition. Looks like there's some stiff competition, but it's a great opportunity to improve this site; making it more user friendly for those in the local area who need our help and for anyone looking to join a Lions Club!
We're currently looking forwards to the Wokingham Winter Carnival 2011 which will be on Sunday 27th November in Wokingham Town Centre. Lots of Lions Clubs and other organisations will be out in force running fun stalls and selling warming food and drink before the fantastic procession which kicks off at Shute end at 4pm. It's a great day out so if you're local please pop down to say hello! We'll be running a great Tombola stall in the market place will brilliant prizes to be won, and all profits going to local charities.
Last week we also had some great press coverage from Brigid and Leslie's abseil (see the press page) and I was delighted to find out that Brigid raised over £1,000 for the Trust. Brilliant work, and a very worthy cause.
--------------------------------
2nd October 2011
Brigid from Bracknell Lions (along with fellow Lion Leslie) proved their committment to good causes this morning by joining a number of local people in abseiling down the Blade in Reading to raise funds of the Alexander Devine Trust. At 9am this morning they gamely abseiled 128 meters (14 storeys)- the equivalent of 32 double decker busses!

Here's a few snaps I took of the brave ladies....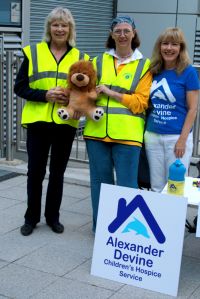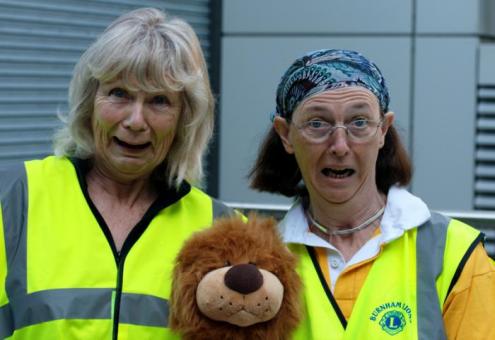 --------------------------------
29th September 2011
Brave Brigid (one of our members) will be abseiling down the Blade in Reading this Sunday (2nd October) to raise money for he Alexander Devine Trust!
Brigid says:
"I am challenging myself to do this Abseil the Blade - this is something that I have never done before and so it is literally for me a leap into the unknown but I passionately believe the cause is worth it."
Her Just Giving site can be found here: http://www.justgiving.com/brigid-hendy and more information about the excellent cause can be found here: http://www.alexanderdevine.org/. Please give generously! Good Luck Brigid!
--------------------------------


25th September 2011

I was really pleased to see in the Bracknell Standard this week a feature on the Race Night we held on Friday 16th September in Bullbrook. Thanks to the Standard for getting the details correct and coming to cover the event (there is a scan of the article over on our press page!). We were chuffed with the money we raised for charity- half will be going to Help for Heroes in memory of Iris Gough, a dedicated Lion who sadly died earlier this year. The club are currently deciding where the rest of the profit will be going- watch this space!
--------------------------------
10th February 2015
9th November 2016
--------------------------------
What we've been up to recently!
In January 2016, Brigid and Mike went on holiday to The Gambia to meet up with her sister and also to meet with Kebba Cham who took us to one village – Gunjar Kunkujang – where we sat with the chief and the village elders and discussed how we might help them. In their village they have a bore hole powered by solar power which currently services just 9 taps for 2000 people (one of those taps is dedicated solely for the school which has over 800 pupils). Their need is to get a minimum of 25 taps which potentially could provide clean water to 10,000 people. To do that will mean replacing the existing solar panels, water tank and tower and provide larger ones to power the water distribution to a wider area.
COVID-19 has been tough on many people. At Bracknell Forest Lions, we run fundraising activities throughout the year, including our huge event in July- The Bracknell Show. We raise money to donate to local charities and causes, plus supporting a few larger national and international causes. However, our fundraising efforts have stalled and we expect to be around £5000 down on previous years due to not being able to run out usual events and activities. If you have a few spare pounds, that you might have spent at a fete or festival, that you might have previously popped in a charity bucket in town or bought a raffle ticket with, please consider donating so that we can support local people in crisis through some of the wonderful Bracknell and Berkshire based charities. Thank you Recent donations from the Bracknell Forest Lions include: - Berkshire Womens's Aid & Cowshed -South Hill Park -Bracknell Food Bank -Dream Holidays -Pilgrim Hearts Winter Homeless Shelter -Brain Tumour Research -Sightsavers -BADGOHS -Cruse Bereavement Care Thames Valley -The Ark Trust (Project 73 & Festival Green Machine) -The Red Box Project Bracknell -Marie Curie