GAMBIA APPEAL
Extract from the official website
This project has now finished from the Bracknell Lions input but it's an amazing bit of work that shows the international nature of Lions.
In January 2016, members Brigid and Mike went on holiday to The Gambia and met with Kebba Cham who took them to the village of Gunjar Kunkujang where they sat with the elders and the chief and spoke about the issues there and what help they required.
In their village they have a bore hole powered by solar power which currently services just 9 taps for 2000 people (one of those taps is dedicated solely for the school which has over 800 pupils).
Their need was to get a minimum of 25 taps which potentially could provide clean water to 10,000 people. To do that meant replacing the existing solar panels, water tank and tower and provide larger ones to power the water distribution to a wider area.

Since then, the club's relationship with the village has continued, and Mike and Brigid have continued to tirelessly raise funds.
TIMELINE:
January 2016 – First trip to The Gambia and Gunjar Kunkujang
August 2016 – With the approval and support of Bracknell Forest Club the project fundraising was launched nationally
November 2016 – Second trip with 90kgs of school stationery (mostly donated by St Teresa's Catholic Academy, Wokingham after we addressed a school assembly)
July 2017 – Have raised £8000 in 12 months from clubs in this District, other clubs in MD, schools, companies and family and friends
July 2017 - Banjul Kairo Club now established 1 year – advised to apply for LCIF International Assistance Grant
August 2017 – Completed paperwork despatched to Oakbrook
25th October 2017 – Matching grant of £7200 granted by LCIF
November 2017 – Third trip to Gambia with another 40kgs of goods. Minor variations in project - contractor instructed to start work
End December 2017 – Work starts
Spring 2018- Agreed next stage of project to be solar powered electricity for the nursery and an IT suite for the lower school
Summer 2018- Fundraising target set and planning for next stage
Spring 2019- Solar energy and fencing project comissioned and work started.
Summer 2020- Baby scales, Glucometers, printer cartridges clothing and nurses uniforms sent over.
Autumn 2020- Second shipment of tracheistomy tubes, suction machines and computers.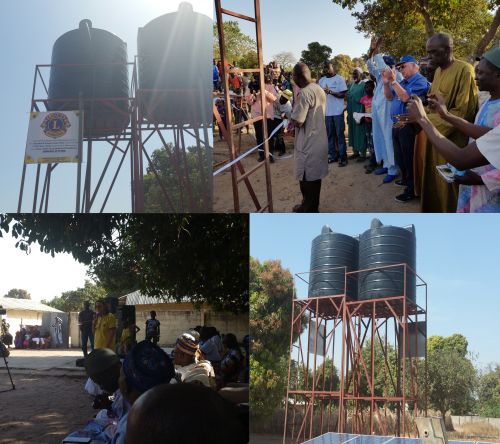 Mike & Brigid Hendy